Flexible and mobile working
With today's increasingly mobile workforce, organisations are seeing the benefit of offering employees flexible working opportunities. Ricoh is here to provide you with the tools and expertise to enable your workforce to be productive and connected at the office, at home and on the go.
---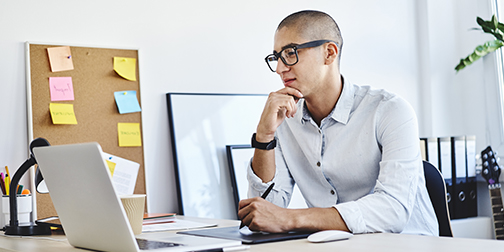 Work together, anywhere - Helping businesses stay connected
We help businesses of all sizes stay connected with intelligent remote working solutions, even at times of disruption.
Learn more about our end-to-end remote solutions, they are user-friendly, secure and scale to meet your needs.
---
Solutions for a better connected business
Fast, effective knowledge sharing is vital to business growth, innovation and agility. Ricoh offers a range of communication solutions that support flexible and remote working patterns while boosting productivity. And with our experience with digital transformation, we can offer you the know-how to help you introduce new working practices into your business.
Easy access to information
Ricoh's robust, reliable communication and cloud infrastructure lets you provide your teams with advanced high performing IT and support.
Information sharing becomes seamless as our technology allows remote colleagues to easily collaborate in real-time and securely share documents via a wide range of devices. And easy access to digitised information helps your employees remain productive while mobile.
Flexible working out of the box
Ricoh's cost effective solutions make it affordable for organisations of all sizes to implement scalable, flexible working technology without significant up-front investment. Our transparent billing model means that you have access to the latest communication and information sharing technologies in a way that's both economical and predictable.

---
---
Talk to a Ricoh expert
Get in touch with one of our consultants and find out how we can help your business.
---
Also in Business Challenge
Flexible and mobile working