Cloud & Clear
All the cloud computing and cloud hosting solutions you need
Cloud & Infrastructure Services
Businesses around the world are accelerating their digital transformation and embracing new strategies at pace. The catalyst for this change is cloud. As an enabler for increased agility, productivity and security, businesses can now aim higher and reach further with a well-managed cloud infrastructure.  
The right solutions, roadmap and team 
Capturing the full value of cloud requires more than just the technology. You need the right roadmap and team to execute it. With the right cloud solutions and expertise to manage them, you can modernise and consolidate your IT infrastructure. You can also transform business operations to become more agile, cost-effective and secure while pursuing next-generation innovation.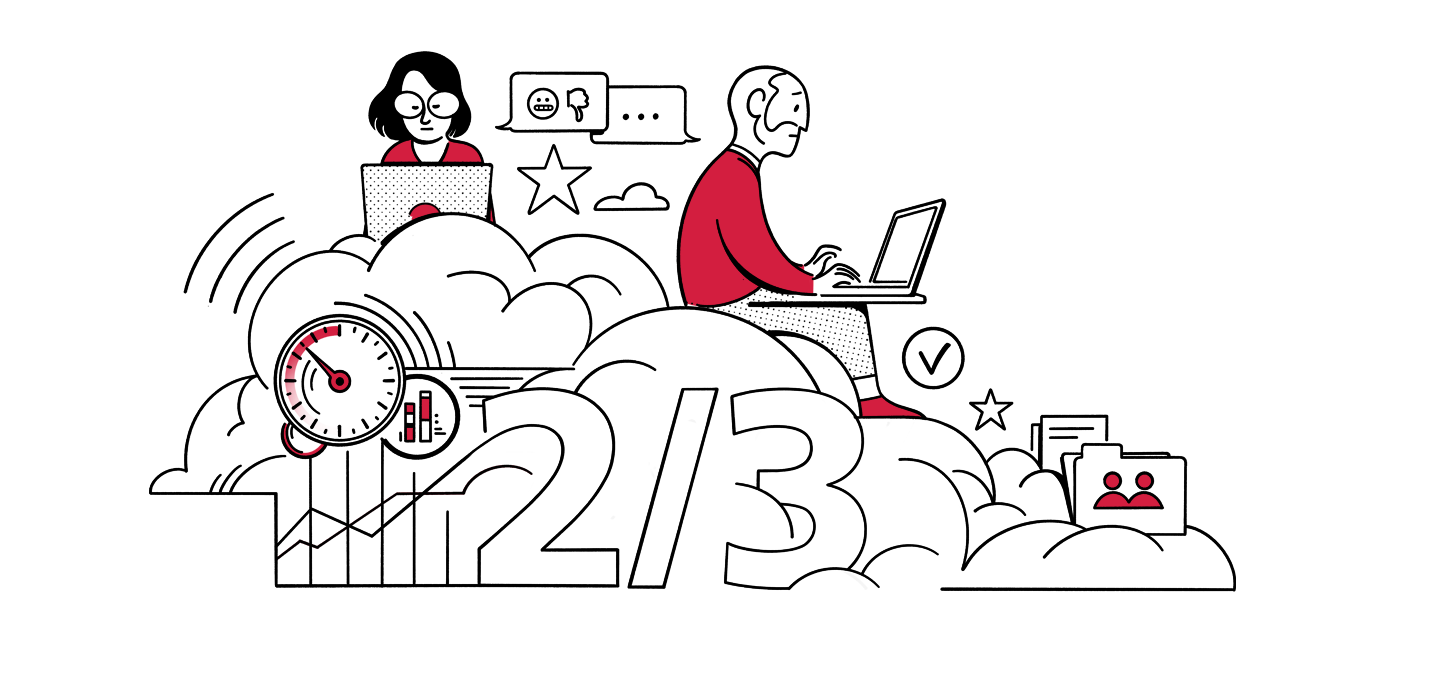 2/3 of businesses say they haven't achieved the results expected of their cloud initiatives.
With Ricoh's Cloud & Infrastructure Services, you get a reliable and clearly-defined solution to enable business agility and innovation. 
Cloud strengthens resilience in key business areas, enhances online collaboration and increases customer engagement in a virtual world. Many businesses have experienced first-hand the vital role that cloud plays in a company's digitisation agenda. Those with a 'cloud-first' approach can innovate faster, create new revenue streams and respond more specifically to customer needs.  
Working with you to define the right approach 
Whether you're taking a cloud-first approach, or relying on the processing power available on-site, we work closely with your team to understand your business and IT strategy, your existing infrastructure and your operational goals. 
Advance your entire IT infrastructure 
We can implement, manage and advance your entire IT infrastructure, enabling a global experience with local delivery. At the same time, you can access extensive technical expertise without having to hire additional internal resources, providing total cover to meet your needs today and in the future. 
Cloud Infrastructure Services

IT Infrastructure Solutions & Services

Networking Solutions & Services

Business Continuity & Disaster Recovery
Let's connect
Talk to a Ricoh expert
Get in touch with one of our consultants and find out how we can help your business.
Contact us
Ricoh Business Services
Explore a range of professional services and solutions to help your organisation progress on its digital journey.
See all our Business Services