Ricoh Laser Office Printers
Best-in-class quality. Expert consultation. Outstanding support. Welcome to the Ricoh end-to-end experience. Thousands of businesses around the world rely on Ricoh's quality laser print technology and outstanding reliability to facilitate smart, efficient and sustainable business workflows.
---
Why join thousands of satisfied customers?
Ricoh's diverse range of office printers are a market-leader for a simple reason: smart laser technology that delivers the highest quality results every time, no matter what the job.  And because Ricoh understands the demands of the modern workplace, our laser printers are as reliable in security, usability and productivity as they are in quality.
Laser-sharp quality at any size
User-friendly, app and cloud connected
Built-in, best-in-class security
Strong sustainability credentials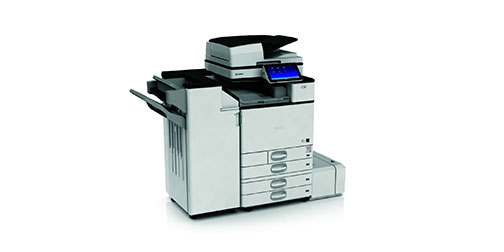 World Market Leader

Our long experience and reliability makes Ricoh the first choice for businesses across the world.

Security is in our DNA

Ricoh's best-in-class security measures are embedded into all our devices.  Always have been, always will be.

 

Committed to sustainability

With one of the lowest energy consumption levels in the industry, our laser printers are a smart choice for businesses looking to minimise their environmental footprint and enhance well-being.

Ricoh laser technology is a quality guarantee

No matter what size or resolution, Ricoh's laser technology guarantees best quality print results every time. Get sharper text and truer colour without saturation or curling effects.

Adapted to new ways of working

Accelerate business productivity through our user-friendly Smart Operation Panel, Application site, mobile printing and cloud capabilities.

Customer satisfaction guarantee

Our customers' satisfaction is our priority. That's why we offer a broad range of expert consultants, technicians and support staff to our customers – delivering outstanding service and fast support when it's needed. Ricoh scores a 9 out of 10 in customer satisfaction*
Make data security one less thing to worry about

Ricoh's best-in-class security measures are embedded into all our devices. Security is in our DNA. Always has been, always will be.


Our devices are designed, manufactured and implemented with layered security as a core requirement
IDC Marketscape

named Ricoh a world leader

in print and document security in 2017.
Ricoh-only Operating System does not share vulnerabilities that are present in many COTS operating systems
Ricoh devices are certified to IEEE2600.2 as standard
Our Governance Risk & Compliance (GRC) services extend our expertise from managing physical data into the full data lifecycle for digital information
Security features embedded into the device include but aren't limited to:

Hard disk encryption
Disk overwrite security
Secure Print to Me capability
User authentication, access control
Secure and certified data cleansing


For full details download the Ricoh Security Report or learn more about Ricoh's approach to security


Laser-sharp quality for the best results. Every time.

Laser technology really does mean sharper quality.  Alternative devices may handle the everyday black and white but when the business needs visual impact and a professional edge, Ricoh's laser MFPs deliver sharper text and truer colour every time.


Show image quality comparisons 
Text clarity & colour match comparisons
With Ricoh, outstanding quality doesn't come at the cost of productivity. Whereas some devices can drop up to 75% in productivity when a higher print resolution is set, Ricoh's laser MFPs will churn out max DPI quality documents with only a minor difference in print speed
Sharper text and truer colour without saturation or curling effects

Devices designed to enable the modern flexible workplace

Free up your employees to focus on what they do best by automating everyday workflows. Let your digitally-savvy staff work more flexibly and efficiently than ever before with smart technology such as Streamline NX mobile print functionality – enabling them to connect to and print from the device from any location. Transform your document management with seamless and secure scan to cloud functionality which means content can be stored, shared, retrieved or archived at the touch of a button. With these simple technology tools, you can rapidly boost the productivity of your workplace.

Streamline NX software enables smart workflow capabilities such as Mobile Print
10.1" Smart Operation Panel is super intuitive for outstanding ease of use
Application site connects the device with cloud and other file storing and sharing applications enabling smart automated workflows
Streamline NX software enables smart workflow capabilities such as Mobile Print

Ricoh is committed to driving sustainability through our energy efficient devices and well beyond.

Ricoh's laser MFP printers have one of the lowest energy consumption levels in the industry, both in TEC and actual power consumption. Default Auto Off timer setting lowers power consumption, running costs and carbon footprint when the device is not active – while super-fast recovery time makes sure there is no impact on your productivity. Resource Smart offerings allow your business to optimise waste management and re-use valuable resources, to cut costs and reduce environmental harm.

One of the lowest energy consumption levels in the industry when in sleep mode
Ultra-fast Auto Off timer conserves energy when not in use
Carbon Balanced Print services to help you achieve net-zero carbon footprint of your print infrastructure
Reduce, re-use and recycle products and services at each step of the product lifecycle for efficient resource management


Ricoh's commitment to environmentally sustainable practices goes well beyond our devices.  Our leading social sustainability offerings address inclusivity, end-user well-being and workstyle transformation to enhance new, more environmentally sound ways of working.

Learn more about how Ricoh can help you integrate sustainability into every aspect of your workplace environment.

Compliance and certification: All Ricoh products are compliant to local, national and international health and safety legislation. We provide Safety Data Sheets and Product Environmental information to customers for all our products.  Ricoh devices hold the highest number of EPEAT® Gold rankings. It is Ricoh's intention to continue meeting the European standards for energy and resource efficiency as defined by the Blue Angel Mark.  Packaging of Ricoh products is designed to give consideration to weight and volume reduction, prioritising the use of recycled materials.

Learn more about Ricoh's commitment to sustainability.

Join thousands of satisfied Ricoh customers

From expert consultancy through to outstanding customer support, Ricoh is your trusted technology partner.  Benefit from the rock solid reliability that thousands of business have come to expect from Ricoh. Hear what our customers have to say.