Ricoh Europe announces key appointment of Clive Stringer to meet market demand for high speed inkjet technology
Ricoh Europe, London, 15 January 2020 – Ricoh Europe is continuing to drive innovation and opportunity in high speed inkjet systems and solutions with the appointment of Clive Stringer as Director, Continuous Feed and High End Software, Commercial and Industrial Printing Group. His appointment means clients across Europe can tap into his expertise and experience in optimising the effectiveness of inkjet installations.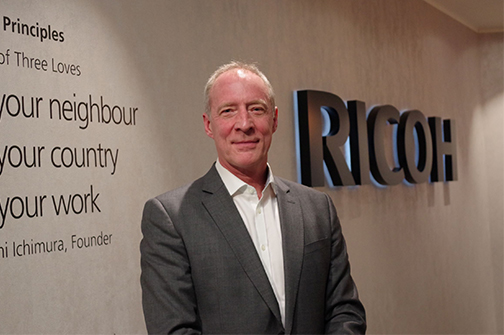 From this month (January) Clive will be responsible for Ricoh's award winning high speed inkjet technology that is continuing to be embraced by the European market. This includes the award-winning Ricoh Pro™ VC70000, the Pro™ VC40000, and the Pro™ VC20000 and Pro™ V20000.
He will focus on the needs of direct mail and transactional clients as well as the benefits that software solution suite Ricoh ProcessDirector™ can deliver to busy production environments.
Clive brings with him a wealth of sales, pre-sales and marketing experience accrued from previous positions within BlueCrest (formerly Pitney Bowes), where most recently he had global responsibility for product management, as well as previous senior roles in Ricoh and IBM InfoPrint. In these roles he has put complex deals into place across Europe combining hardware, software and services to deliver value-based solutions for clients.
Clive takes on the role from Tim Taylor who has been promoted to the new global post of Director, Inkjet Production Solutions. From April 1 2020, Tim will be part of the global High Productivity Solutions Center (HPSC), where he will be responsible for the preparation and global launch of key strategic high speed inkjet solutions focused on the Graphic Arts market. Tim will also play a strategic role in representing European and global client requirements in future product planning, working closely with Ricoh Europe's planning and development teams.
Stringer says: "The high speed inkjet team has grown very quickly under Tim's watch and I am excited to be able to continue that momentum as clients increasingly recognise the many tangible business benefits this technology consistently brings. Following extensive research and development Ricoh has created benchmark setting high speed inkjet solutions. As a result, clients can be confident that when they adopt the technology it will elevate their quality, capacity and productivity to expand capabilities and profitability, and address new opportunities."
"High speed inkjet is capturing the imagination of forward thinking operations which is why we have made this key appointment," says Eef de Ridder, Vice President, Commercial and Industrial Printing Group, Ricoh Europe. "With Clive, who will be supporting businesses who specialise in Direct Mail and transactional print joining Juergen Freier, recently appointed to guide more Graphic Arts oriented Print Service Providers who are on their Analogue to Digital journey, Ricoh has the high speed inkjet expertise and portfolio to add strategic value across the market."
For more information please visit www.ricoh-europe.com.