Continuous feed inkjet print showcased by Ricoh at Spring Forward with Tecnau virtual event
Ricoh Europe, London, 13 May 2021 – The productivity and flexibility benefits commercial printers can enjoy with Ricoh continuous feed digital inkjet technology, supported by agile finishing solutions, will be demonstrated at the Spring Forward with Tecnau virtual event on 27 May.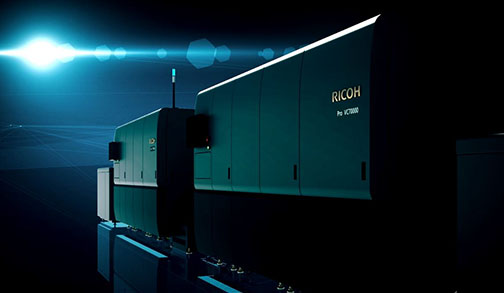 The dynamic event will highlight the benefits and gains possible for commercial jobs printed on a Ricoh Pro™ VC70000 continuous feed inkjet press and completed by inline and nearline Tecnau solutions.
Eef de Ridder, Vice President, Ricoh Graphic Communications, Ricoh Europe, says: "In a post-Coronavirus world where print volumes have fallen, a space has opened up between run lengths suitable for offset and those ideal for digital toner. Inkjet is perfectly placed in terms of productivity, flexibility, quality, and cost effectiveness to enable commercial printers to address this growing opportunity. To do that as effectively as possible requires fast and flexible finishing capabilities which is why, as part of our culture of transformational innovation known as HENKAKU, we are partnering with Tecnau to present the future of print and finishing. Flexibility is the watchword as many of the traditional constraints associated with continuous printing and finishing are fading away as a result of the integration of Ricoh and Tecnau technology."
The live demonstrations will last 90 minutes. They will take place on May 27 at 10:00 AM CET and 11AM US ET, from the Tecnau Experience Center (TEC) and Ricoh's European and American Customer Experience Centres (CECs), respectively.
For the European demonstration, eight personalised automotive postcards will be printed on 250gsm Fedrigoni Symbol Satin by a Ricoh Pro VC70000.
During the American presentation, 228pp A4 Bianchi bicycle catalogues will be printed on 90gsm and 200gsm G-Print by a Ricoh Pro VC70000.
In both sessions, the eight personalised automotive postcards will be finished on the Tecnau Revolution 50 series roll to cut and stack line and on the Tecnau Stack 1212 B2 size sheet solution. And again, in both sessions, the A4 bike catalogue will be bound on a Tecnau Libra 800 book on demand solution, supported by Datamatrix codes that track and trace production and reduce operator workload. Combining with the Libra 800 solution, the Datamatrix codes support maximum production uptime and fast job setup.
Efficient and cost-effective operation is aided on the Ricoh Pro VC70000 by RICOH ProcessDirector, RICOH TotalFlow BatchBuilder and Ultimate Impostrip software solutions. They ensure smooth planning, streamlined and efficient job batching and the simplified imposition and organisation of complex tasks.
Register for Ricoh's Spring Forward with Tecnau presentation here.
For more information visit www.ricoh-europe.com.