IDC MarketScape Worldwide High-Speed Inket Press Vendor Assessment
Report
2023 IDC MarketScape Worldwide High-Speed Inkjet Press Vendor Assessment
Ricoh is positioned in the Leaders category of the 2023 IDC MarketScape for worldwide high-speed inkjet presses.
Inkjet is the future of digital print, and Ricoh has been named a leader in High-Speed Inkjet Presses. Learn about how our innovation in both hardware and software, and ongoing commitment to our print community is moving the needle — for Ricoh, our customers and the industry as a whole.
About IDC MarketScape: IDC MarketScape vendor analysis model is designed to provide an overview of the competitive fitness of ICT suppliers in a given market. The research methodology utilises a rigorous scoring methodology based on both qualitative and quantitative criteria that results in a single graphical illustration of each vendor's position within a given market. The Capabilities Score measures vendor product, go-to-market and business execution in the short term. The Strategy Score measures the alignment of vendor strategies with customer requirements in a 3-5-year timeframe. Vendor market share is represented by the size of the icons.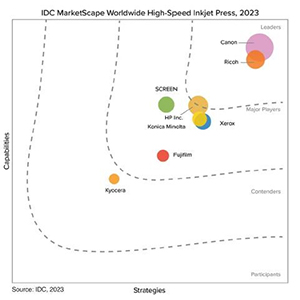 DOWNLOAD THE EXCERPT
Fill out the form below to receive your copy of the excerpt. Fields with asterisk (*) are mandatory.