Smart Lockers
Smart Lockers can help your organization adapt and be more efficient
Smart Lockers is the best solution to transform time-consuming manual tasks into automated processes. Built with digital technology beyond simple keyless entry, Smart Lockers offer fully integrated reporting and real-time management.
They can provide dynamic personal storage for hybrid workplaces, automated device management in warehouses, flexible click and collect for retail stores and secure parcel delivery in any setting. 
Regardless of your industry, we can work with you to find a solution to improve your organization and take advantages from different benefits:

Automate manual processes to save time and resources
Access full reporting of usage and maintain governance
Provide safe & secure self-service storage environments
Integrated digital technology with existing or new infrastructure
Offer a flexible and user-friendly experience
---
Download the ebook and discover how Ricoh Smart Lockers enables change through integration of asset management into your smart IT workflows, making it easier, more cost-effective, and secure to distribute, track and protect them across your organisation.
Where Smart Lockers can help your business
Office & Workspace Smart Lockers
Support your workforce with secure personal storage and efficient automated vending, ensuring your employees have immediate access to everything they need to do their work effectively anywhere. Mailrooms and receptions can benefit enabling secure parcel delivery and the delivery of other personal goods.
Warehousing & Logistics Smart Lockers
Smart lockers can automate the management of high-value devices, reducing loss, damage and management time. There is even the possibility to add charging plates. Personal storage lockers can also help you manage allocated space for large and fast-moving workforces - on a shift-by-shift basis.
Parcel Delivery & Document Smart Lockers
Commercial delivery partners and couriers can enable 24/7 pick-up, drop-off and returns of parcels from internal or external units. Suited to a range of postal services, Smart Lockers can also provide reliable and secure public postal solutions.
Retail Smart Lockers
Retail smart lockers allow customers to benefit from the ease of shopping online and offer immediate, flexible collections. An order is assigned to a locker, and the customer will be automatically notified when it's ready for pick up. Offering a user-friendly and flexible click and collect experience, Smart Lockers can refresh your shop floor.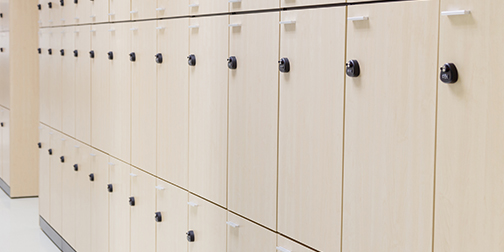 Residential Mail Smart Lockers
Smart Lockers offer residents a secure, convenient and reliable mail retrieval option that puts experience first. They can even be configured to accommodate large items and deliveries, providing a convenient and practical solution for residents.
Customer Success Story
Automated equipment vending to keep public sector workers going Ricoh assisted Coventry City Council in protecting key workers and maintain essential services during the COVID-19 crisis.