Ricoh wins BLI Award from Keypoint Intelligence for colour intelligent MFP
Device recognised for supporting large business environments
Ricoh Europe, London, 12 January 2021 – Ricoh is celebrating another Keypoint Intelligence success having won a BLI Winter 2021 Pick Award for its A4 colour intelligent multi-function printer (MFP), the Ricoh IM C530 Series.
Awarded twice a year, BLI Picks acknowledge the office equipment and products that scored highest in Keypoint Intelligence's extensive lab tests over the previous six months. The Ricoh IM C530 Series was declared the winning device in the category of Outstanding A4 Colour MFP for Enterprise Environments.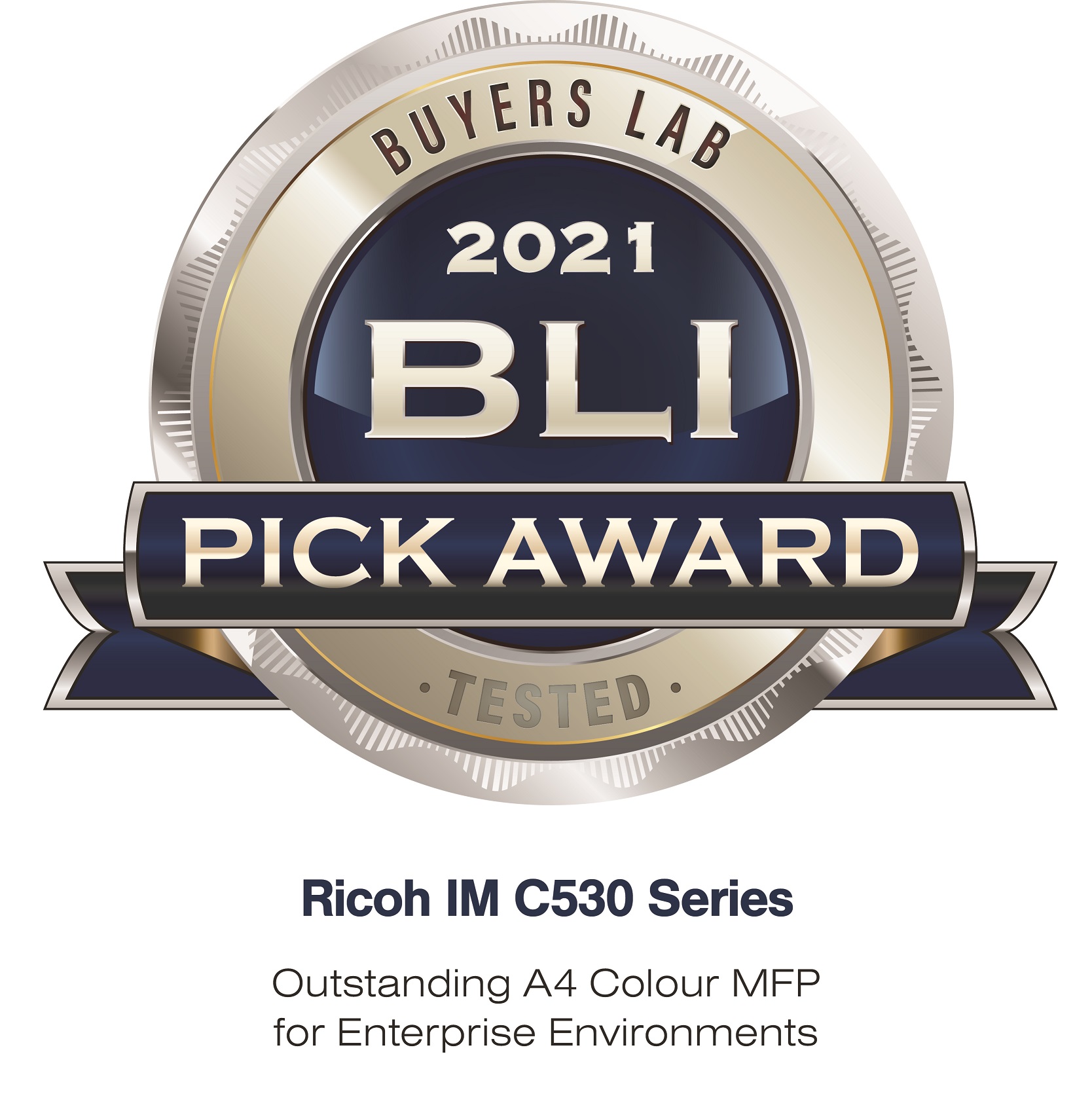 The Ricoh IM C530 Series allows users to optimise their printing workflows and overall productivity. Customisable features coupled with an intuitive user experience ensures print speeds of up to 53 pages per minute with a large capacity tray enabling the production of up to 3,250 pages without delay.
Keypoint Intelligence has recognised the device for:
Impressive user-friendliness: including a large, intuitive touchscreen interface that supports web browsing and offers extensive guidance on routine maintenance and device operation
Robust administrative tools: including Ricoh's Device Manager NX, Ricoh @Remote, Ricoh RemoteConnect Support, and optional support for Ricoh Streamline NX
Support for numerous workflow-simplifying and investment-maximizing solutions, apps, and services: such as Ricoh Smart Apps and Ricoh Always Current Technology
The Ricoh IM C530 Series is part of Ricoh's renowned A4 colour intelligent MFPs and Dynamic Workplace Intelligence approach which features Ricoh's Always Current Technology to ensure the technical capabilities of products evolve in parallel with customer requirements. The award-winning devices incorporates Ricoh's Smart Operation Panel, equipped with an upgraded processor that provides faster transitions between applications and a smooth, responsive touch screen. Ricoh service experts can remotely access a device's Smart Operation Panel for fast troubleshooting and perform automatic firmware updates.
Kaitlin Shaw, Associate Director of A4 Hardware at Keypoint Intelligence, says: "For a low cost per page, businesses get strong performance and standout usability from the Ricoh IM C530 Series. The devices include an intuitive touchscreen that support web browsing and enable users to select from a variety of workflow-simplifying Ricoh Smart apps right from the control panel, while software integration is another big plus. Administrators are sure to appreciate the outstanding device management tools at their disposal. All of this helps to maximize productivity, which is critical for busy enterprise environments."
Harald List, Director EMEA Product Management, EMEA Marketing, adds: "Customers are rightly demanding the most powerful, intuitive and secure printing technologies. The Ricoh IM C530 Series is an example of how we work continuously to meet new and emerging needs while giving customers peace of mind in an ever-evolving business world. This award is a testament to our appetite for innovation, customer excellence and unwavering commitment to helping people work together from anywhere."
For more information on Ricoh products and services visit www.ricoh-europe.com.