Ricoh's Customer Experience Centre awarded BPIF ISO12647-2 Certification
Ricoh Europe, London, 14 December 2016 – Ricoh's Customer Experience Centre (CEC) in Telford, UK, has achieved BPIF ISO12647-2 colour quality management certification.

Ricoh is the first digital press manufacturer, and one of only nine companies in the UK, to hold the UKAS accredited international standard.

The CEC was designed to combine Ricoh software and hardware technologies to share knowledge, experience and R&D for future product development. It provides a central training and marketing resource and the smart factory environment produces samples for operating companies and clients across Europe.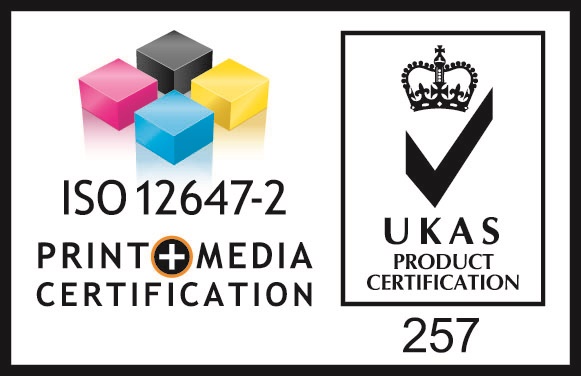 Both the Ricoh Pro™ VC60000 continuous feed colour inkjet press and the Ricoh Pro™ C7100SX cut sheet colour toner production press were representative technologies tested for compliance. All sampled sheets passed the required tolerances.

The ISO12647-2 colour quality management certification scheme, developed by the BPIF, is the only UKAS (United Kingdom Accreditation Service) accredited certification scheme.

Jon Stack, Colour Certification Manager and Lead Auditor of independent auditing body Print Media Certification, says, "BPIF ISO12647-2 gives customers the confidence of real colour quality. We were impressed by the high quality and consistency of the sample products tested."

Graham Moore, Business Development Director, Production Printing Business Group, Ricoh Europe, adds. "This accreditation will help convince offset printers to move low volume work from offset to digital. It demonstrates our capability and knowledge in the field of colour management. It also shows our equipment can operate within a compliant ISO colour quality management environment."