Ricoh Pro™ C7200sx Series' performance consistency achieves BLI PRO recognition
Ricoh Europe, London, 22 April 2021 – The all round production consistency of the colour sheetfed Ricoh Pro C7200sx Series has been recognised with a Keypoint Intelligence Buyer's Lab Mid-Volume CMYK+ BLI PRO Award. The independent seal of approval for document imaging hardware and software follows in depth testing against a comprehensive set of technical criteria.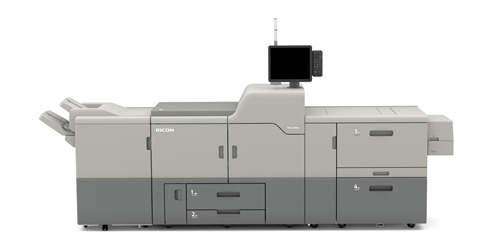 David Sweetnam, Director of EMEA/Asia Research & Lab Services, Keypoint Intelligence (which owns BLI), says: "We were especially impressed by its performance over our production length test suite, where, over a series of six challenging 1.5 hour workflows generating over 37,000 clicks, the device never suffered a colour drift across the 42 colours in the FOGRA39 media wedge of more than DeltaE00 3.8, neither did it exhibit a front-to-back or page-to-page registration shift of more than 0.4 mm, earning it our coveted 5 Star rating in this category."
"The Ricoh Pro C7210sx/x is designed from the bottom up as a production workhorse," adds Martin Soane, European Lab Manager, Keypoint Intelligence. "The device's fifth imaging station allows printshops to go beyond CMYK, including fluorescents, white, clear, and invisible red."
The latest accolade follows the Ricoh Pro L5160 large format production printer receiving the 2020 BLI Pick Award for Outstanding High Production CMYK Eco-Solvent/Latex 54"/64" Printer.
Eef de Ridder, Vice President, Ricoh Graphic Communications, Ricoh Europe, comments: "It is a great honour for another one of our solutions to achieve this industry recognition - particularly following such rigorous testing. It is also a testament to the commitment of our research and development, engineering, and manufacturing teams that the consistency of registration remained true throughout the thorough process."
For more information visit www.ricoh-europe.com.