Ricoh launches GelJet device to support remote working
Desktop printer and inks delivered direct to homes
Ricoh Europe, London, 17 February 2021 – Ricoh Europe has launched its new SG 3210DNw GelJet printer. The device can be delivered directly to user's homes and is designed to meet the need for environmentally responsible, high quality, fast home printing.
In a landmark move, Ricoh will deliver the printer and supplies to homes while users can order replacement GelJet ink directly via their local Ricoh website. The home-based device is supported by Ricoh's extensive network of service engineers.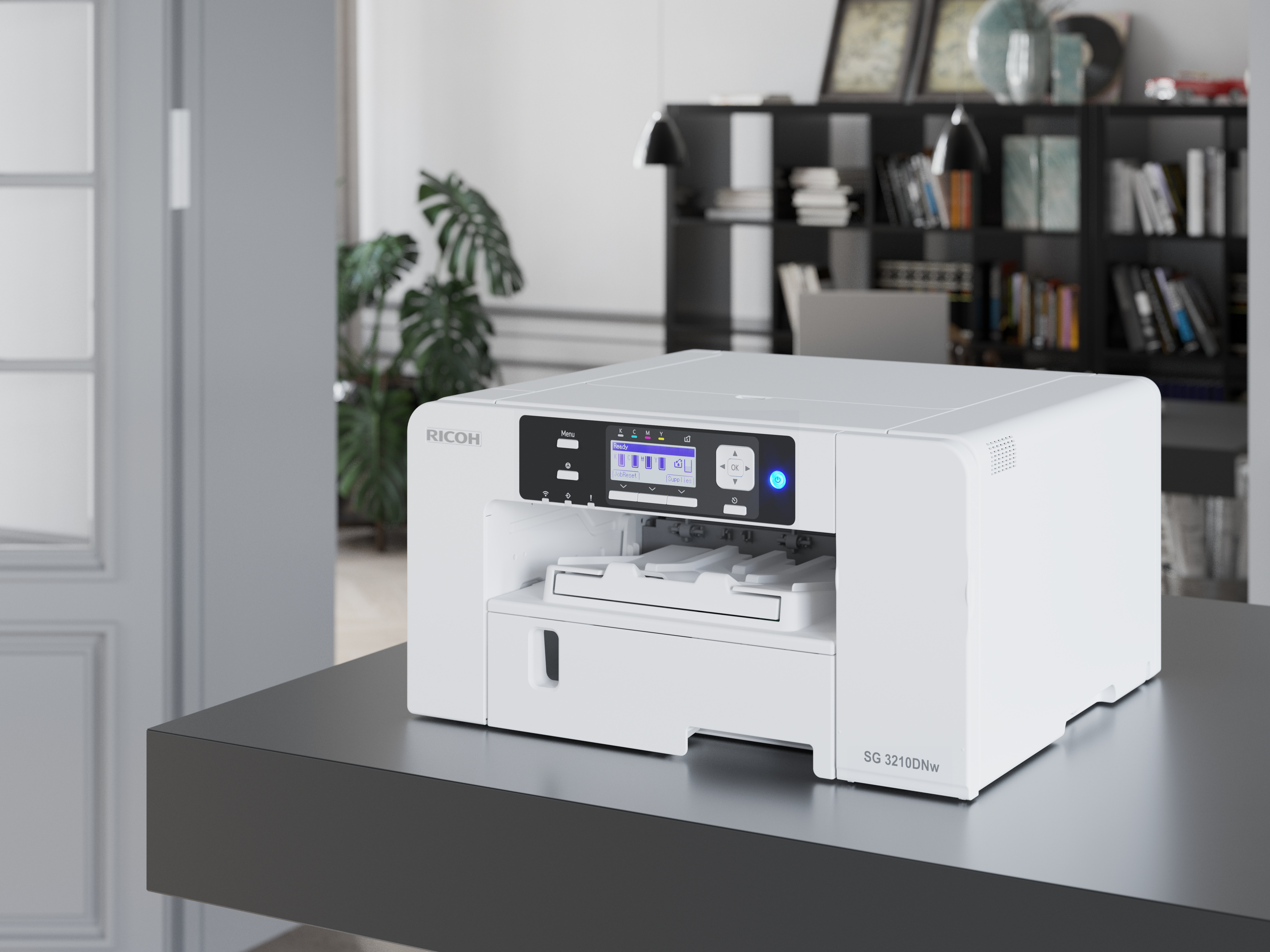 Ricoh's unique GelJet technology ensures improved permeability through faster drying, light and water-resistant printing. Unlike the roller feeding function of traditional inkjet printers, GelJet devices use a belt system similar to those found in laser printers to ensure the paper stays flat to enable high speed, high quality printing. The wide print head allows a variety of images to be presented simultaneously for reliable high-density printing.
The device also supports environmentally sustainable working with low energy consumption, an energy saving mode, eco-friendly parts and long-lasting supplies. GelJet devices typically consume 90% less power than a standard colour laser printer, thus contributing to a significant relative reduction in CO2 emissions.
In addition to its compact desk top size, the SG 3210DNw further supports flexible working with the ability to connect to networks via any device, including mobile. This flexibility extends to payment, with a fixed monthly cost added to customer contracts for convenience and transparency.
Olivier Vriesendorp, Vice President of EMEA Portfolio Marketing & Product Management, Ricoh Europe, says: "The new business environment has significantly heightened the need to support and empower a distributed workforce. Enabling people to work from home at the same pace they would as if in the office, while connecting and collaborating seamlessly, is essential. Equally important is the peace of mind that comes with knowing that the same level of satisfaction is assured by Ricoh in support of these home-based devices and the workers that use them. Making our new GelJet device available on this scale is a testament to our ongoing commitment to helping people work together from anywhere."
For more information visit www.ricoh-europe.com.