Ricoh launches digital postcard tool in support of Alzheimer's Research
First of its kind Printed Memories portal designed to bring families closer together
Ricoh Europe, London, 12 June 2018 – Ricoh has launched an innovative digital postcard tool to help those affected by dementia, most commonly caused by Alzheimer's disease, stay connected through personalised images.
The tool, which makes use of Ricoh's proprietary technology and production workflow expertise, sits at the heart of the company's Printed Memories programme in partnership with Alzheimer's Research, Europe's leading dementia research charity.
The Printed Memories portal
People with dementia may become withdrawn and socially isolated, and it can be a challenge for families and carers to preserve the same connection they once had to the person. Photographs and mementos from throughout a person's life can become powerful reminder of the life they have lived and the people they love. Printed Memories helps keep these connections alive, particularly when families live away from a loved one who has dementia.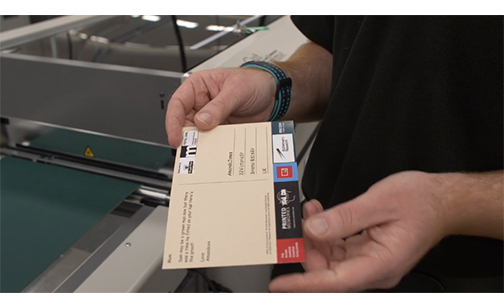 Users simply upload a photo of a memory with a loved one onto the Printed Memories platform. They then have the option to write a personal message before converting their photo into a postcard, which is sent directly to the recipient wherever they are based across Europe. A donation of £1 will be collected with all proceeds going to Alzheimer's Research.
While the Printed Memories portal is primarily targeted at family members and friends of people with dementia, it is open to everyone to use. It is available in English, Spanish, Italian and Polish. More languages will be added over the course of the year.
The back end process has been designed to ensure ultra efficiency and a smooth user experience. Data is received and processed in Ricoh's facility in Telford, UK. The fully automated end to end production process requires no manual intervention from the arrival of the job through to set up, print, finishing and fulfilment. This ensures portal users receive a consistently efficient service, allowing them to simply enjoy creating their personalised postcard.
Javier Diez-Aguirre, Vice President, Corporate Marketing, CSR & Environment, Ricoh Europe, says: "I am extremely proud of our Printed Memories portal and the broader programme we are running with our friends at Alzheimer's Research. Thanks to our technology and people, we can help bring families closer together and raise vital funds for Alzheimer's Research. Dementia, of which Alzheimer's is the leading cause, is one of the world's greatest medical challenges and I believe that corporations like Ricoh have an important role to play in raising awareness and making a real impact on the future."
Timothy Parry, Director of Communications and Partnerships at Alzheimer's Research, adds: "The generosity, support and technology know-how shared by Ricoh is playing a powerful role in helping those affected by Alzheimer's and other dementias to stay connected. The Printed Memories portal demonstrates the unique strengths that partnership can unlock in the battle to combat these diseases. Ricoh's staff can be proud that they are supporting our mission to bring about the first life-changing dementia treatment by 2025 in meaningful ways."
For more information visit www.printed-memories.com.