Ricoh drives print production evolution with TheMagicTouch partnership
Ricoh Europe, London, 20 March 2018 – Print specialist Ricoh is collaborating with leading Transfer Printing Technology supplier TheMagicTouch to enable a wider span of businesses to evolve their offerings with the Ricoh Ri 100 all-in-one Direct to Garment solution.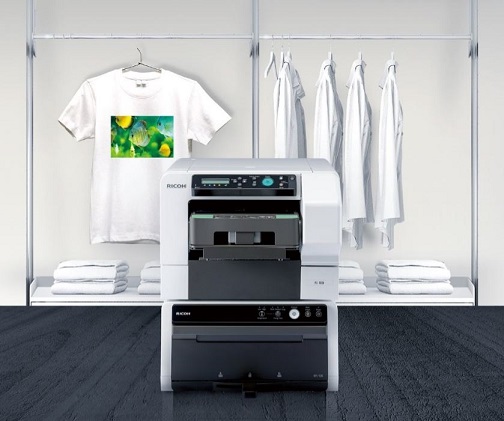 Established more than 25 years ago, TheMagicTouch has a global network supplying image transfer papers, heat presses, laser printers, plotters, cutters, materials and equipment. It also offers an extensive range of consumables and blanks for personalised decoration.

Through its EMEA-wide network the TheMagicTouch will make the Ricoh Ri 100 available in France, Italy, Netherlands, Spain and UK from April.  The remaining EMEA countries will follow in June this year.

The entry level Ricoh Ri 100 Direct to Garment printer is an ideal print on demand solution for Print Service Providers wanting to print promotional and personalised garments such as T-shirts. The consistently reliable system incorporates versatile Ricoh piezo-electric inkjet technology to deliver crisp high quality soft touch prints. The complete solution, that includes a printer and an optional heating system with built-in safety features, uniquely combines high quality output and ease of use at an affordable price. 

Graham Kennedy, Head of Commercial Inkjet Business, Commercial and Industrial Printing Group, Ricoh Europe, says: "We are delighted TheMagicTouch understands that Ricoh Direct to Garment technology can add value for their customers and that the high quality and easy to use Ri 100 passes its rigorous testing."

Mr. Juergen Hagedorn, TheMagicTouch CEO and founder, says: "We are always looking to expand and enhance the innovative solutions we offer.  The Ri 100 is a cost effective and complete solution and therefore a perfect technology extension that we believe will support the profitable growth of many operations."

The Ricoh Ri 100 will be presented at shows across Europe including FESPA, Messe Berlin, from May 15 to 18, in Hall 3.1, Stand A50 for Ricoh and Hall 4.1 stand D59 for TheMagicTouch.

|About TheMagicTouch |
TheMagicTouch® GmbH, Germany founded in 1989, is specialised in developing, manufacturing and marketing Transfer Printing Technology designed for Colour Laser Devices. Key to the Technology is specially coated Transfer Media to receive the Toner Image and is able to transfer and release the Image to the desired Substrate or Product giving a professional result at a maximum of simplicity and user friendliness. 9 different Categories of Transfer Printing Media allow to print on almost any substrate or material one can think of. All MagicTouch Transfer Media are REACH compliant and recognised and widely supported by most Colour Laser Device OEM's. In addition TMT offers a line of specialty Print Media like Label Stock, Greeting Cards, Banner Materials etc. and a whole range of single colour Flex and Flock Films for the Garment Decoration. TheMagicTouch maintains a global sales organization with Master Distributors/Dealers in more than 50 countries.