Ricoh colour cut sheet systems secure five star BLI PRO Awards and infoSource top spot
Ricoh colour cut sheet systems secure five star BLI PRO Awards and infoSource top spot
Ricoh Europe, 23 November 2015 – Ricoh Europe is delighted to announce that both its Pro™ C7110X Series and Pro™ C9110 Series digital colour production presses have been awarded 2016 Buyers Laboratory LLC (BLI) PRO awards.

The news follows the release of the latest infoSource figures that show Ricoh has retained the number one spot for units of digital colour sheet fed production presses sold in Western Europe. Its market share of 37.7% for the first half of 2015 puts it 15 percentage points ahead of its nearest rival.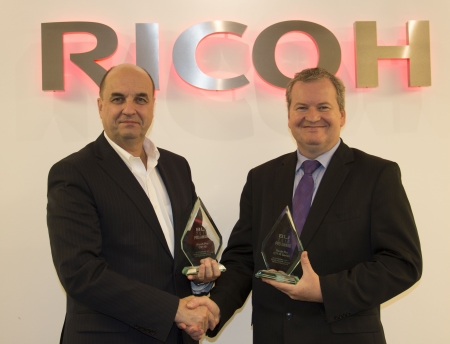 Benoit Chatelard, Vice President, Production Printing at Ricoh Europe commented, "These awards for the Ricoh Pro C7110X and Pro C9110 series from BLI, along with the infoSource data, vindicate the decisions made by many hundreds of progressive print service providers from right across Europe. They chose to be among the first to invest in these Ricoh systems to help them reach new levels of creativity, quality and productivity, both to delight their clients and to strengthen their businesses."
BLI's challenging production tests reveal the attributes that distinguish the most outstanding performers, and the Ricoh systems were the only models to earn BLI's 5 star rating for media handling since the production test programme began.
The Ricoh Pro C9110 has won BLI's 2016 PRO Award as "Outstanding Mid- to High-Volume Colour Production Device" for its:
Significant speed advantages across the entire media range versus its competitors.
Support for media weights up to 400gsm, including for duplexing, from all sources.
Exceptional media handling, including more than double the maximum paper capacity of most rival units, allowing for longer unattended runs.
Class leading offering of inline finishing options which include a perfect binder, high capacity stacker, full bleed square-edge booklet maker and inline ring bindery.
Impressive colour consistency, with no colours shifting by more than Delta E 3.3 over the course of a 1,000 page print run on both coated and uncoated media.
Excellent fine detail reproduction in full colour output, especially in light contrast areas, and very good depth of field.
Noting that the Ricoh Pro C9110 Series is the company's fastest sheet-fed production device to date, David Sweetnam, BLI's director of research and lab services EMEA/Asia, said that its ability to maintain its 130 ppm rated speed up to its impressive maximum media weight of 400gsm "leaves clear blue sky between this model and its closest rivals and brings it into new territory where it can now compete in some workflows against significantly higher priced production devices."
"With its exceptional productivity and media handling, the Ricoh Pro C9110 Series has established several new benchmarks for other vendors to aim for and is certainly going to be a very attractive proposition for many commercial print and CRD environments," adds BLI Senior Analyst Ian Latham.
The Ricoh Pro C7110X Series won BLI's 2016 PRO Award as Outstanding Light- to Mid-Volume Colour Production Device for its:
Fifth imaging station (available on the X and SX configurations), offering a range of creative output not possible with four colour alternatives.
Excellent productivity especially with heavyweight media, maintaining its full 90 ppm engine speed with media up to 300gsm, surpassing the results of rival devices.
Long, uninterrupted print runs thanks to a maximum paper capacity that's more than double the capacity of most rival units.
Class leading array of inline finishing options including a perfect binder, full bleed square-edge booklet maker and inline ring bindery.
Impressive colour consistency, with no colours shifting by more than Delta E 3.9 over the course of a 1,000 page print run on either coated or uncoated media.
Best-in-class black solid density that also showed less variance on both coated and uncoated media than that of competitors in BLI's 100 page high-coverage test.
 "The Ricoh Pro C7110X gave a very strong performance in BLI's production field test", adds Sweetnam. "The fifth imaging station is a real game changer, clearly differentiating it from other cut sheet devices in its class, allowing for a range of creative options (such as spot coating on covers) not possible with four colour press alternatives."
BLI Senior Analyst Ian Latham added, "The Ricoh Pro C7110X certainly deserves its 5 star rating not just for productivity but for media handling, with its support for media up to 350gsm in duplex, with full engine speed maintained up to 300gsm, not to mention support for printing banners up to 700 mm in length, and a media catalogue with a high degree of customisability and tight integration with the EFI controller."
| About Ricoh |
Ricoh is empowering digital workplaces using innovative technologies and services that enable individuals to work smarter from anywhere.
With cultivated knowledge and organizational capabilities nurtured over its 85-year history, Ricoh is a leading provider of digital services, information management, and print and imaging solutions designed to support digital transformation and optimize business performance.
Headquartered in Tokyo, Ricoh Group has major operations throughout the world and its products and services now reach customers in approximately 200 countries and regions. In the financial year ended March 2022, Ricoh Group had worldwide sales of 1,758 billion yen (approx. 14.5 billion USD).
For further information, please visit www.ricoh-europe.com
© 2023 RICOH COMPANY, LTD. All rights reserved. All referenced product names are the trademarks of their respective companies.
For further information, please contact: 
Ricoh Europe PLC
Charlotte Fernandez
E-mail: media@ricoh-europe.com
Homepage: www.ricoh-europe.com
Join us on Facebook: www.facebook.com/ricoheurope
Follow us on Twitter: www.twitter.com/ricoheurope
Follow us on LinkedIn: http://linkedin.com/company/ricoh-europe
Visit the Ricoh media centre at: www.ricoh-europe.com/press