Ricoh and TIGER announce breakthrough laser sintering partnership to support AM innovation
Ricoh and TIGER announce breakthrough laser sintering partnership to support AM innovation
Ricoh Europe, London 15 November 2019 – Manufacturing and technology specialist Ricoh and 3D material solutions innovator TIGER have announced a landmark partnership to bring to market thermoset materials for selective laser sintering. The partnership combines TIGER's specialist portfolio, which includes TIGITAL Inks and Drylac® & Wetlac® surface coatings, with Ricoh's hardware expertise to provide an end-to-end Additive Manufacturing (AM) service.
The partnership supports AM innovators in industries such as electrical, rail, automotive and aerospace to rapidly meet demand for functional and spare parts. Main benefits include exceptional mechanical, thermal, electrical and chemical properties at an economic cost.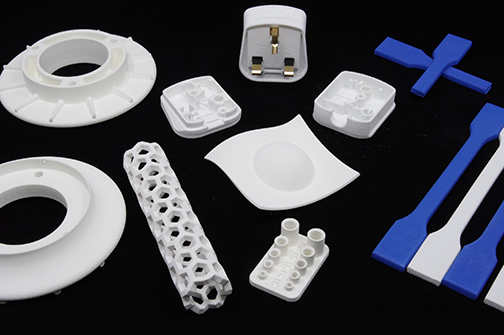 Thermoset materials remain in a permanent solid state, demonstrating outstanding isotropic performance. They can be used to create flame retardant parts that, unlike thermoplastics, offer low smoke formation, no polymer melt-dripping and self-extinguishing behaviour.
The companies will collaborate on materials, processing and application development to support industry innovators in a rapidly changing market. The move further increases the capabilities of Ricoh's 3D printing services and range of in-house technologies, including Selective Laser Sintering. It also reaffirms Ricoh's ability to provide a one-stop shop for Additive Manufacturing (AM) needs – from design to prototype to production. This is supported by a complementary range of team specialisms including material testing, design consultation, metrology and post-processing (such as powder coating of parts).
To celebrate the launch of this innovative partnership, Ricoh and TIGER are working together to host a series of 3D workshops in 2020 for beginners and advanced AM users. The sessions will offer a complete overview on unlocking the potential of AM, with a focus on thermosets – from design and machine competence; to material processing, coating and digital print. Places are limited for these sessions. To register your interest email
3Devents@ricoh-rpl.com
.
Colin Weaver, Managing Director at Ricoh UK Products Limited, said: "This partnership will enable our customers to realise the benefits of additive manufacturing for end-use parts; reducing their development cycles and achieving more efficient production. We are certain that companies adopting thermoset technology will benefit greatly from this collaboration, which combines our 80 years manufacturing experience with the material expertise of TIGER."
Clemens Steiner, CEO of TIGER, commented: "Under the brand name Chematronix®, we offer complete solutions uniting the fields of chemistry and mechatronics. Together with Ricoh we'll bring together the best of these two fields under one roof – for 3D printing results of the highest quality. This collaboration and series of launch workshops will deliver an in-depth understanding of smarter design and processes, in order to maximise these highly intelligent materials – taking 3D SLS print into the next evolutionary stage: beyond rapid prototyping to small production and ultra-high performance hybrid parts."
Meet the experts during Formnext
Ricoh will be showcasing thermoset parts from their collaboration with TIGER on Stand F21, Hall 11.1 at Formnext – the leading global exhibition for additive manufacturing and the next generation of intelligent industrial production. The event takes place at the Messe Frankfurt, Germany from 19-22 November 2019. To obtain free entry courtesy of Ricoh, register for your ticket at www.ricoh-europe.com/formnext2019.
|About TIGER|
TIGER Coatings was founded in 1930 from a paint shop and today is an internationally active family owned and professionally run business with 8 production sites worldwide, 3 research & development centers and a sales network in about 50 countries. Headquartered in Wels, Austria, the company generated sales of 295 million euros in 2018 with 1,300 TIGERs (employees).
The high-quality coating solutions from TIGER – powder coating and digital inks for industrial printing systems – guarantee long-term value retention and are used, for example, on facades, car wheels, furniture, refrigerators or machines. With TIGITAL® 3D Materials, TIGER drives innovation and offers completely new thermoset materials for SLS 3D printing.
For further information, please visit: www.tigital-3dmaterials.com
| About Ricoh |
Ricoh is empowering digital workplaces using innovative technologies and services that enable individuals to work smarter from anywhere.
With cultivated knowledge and organizational capabilities nurtured over its 85-year history, Ricoh is a leading provider of digital services, information management, and print and imaging solutions designed to support digital transformation and optimize business performance.
Headquartered in Tokyo, Ricoh Group has major operations throughout the world and its products and services now reach customers in approximately 200 countries and regions. In the financial year ended March 2022, Ricoh Group had worldwide sales of 1,758 billion yen (approx. 14.5 billion USD).
For further information, please visit www.ricoh-europe.com
© 2023 RICOH COMPANY, LTD. All rights reserved. All referenced product names are the trademarks of their respective companies.
For further information, please contact: 
Ricoh Europe PLC
Charlotte Fernandez
E-mail: media@ricoh-europe.com
Homepage: www.ricoh-europe.com
Join us on Facebook: www.facebook.com/ricoheurope
Follow us on Twitter: www.twitter.com/ricoheurope
Follow us on LinkedIn: http://linkedin.com/company/ricoh-europe
Visit the Ricoh media centre at: www.ricoh-europe.com/press