Print community offered Covid-19 advice and support as part of newly launched Ricoh Business Booster
Print community offered Covid-19 advice and support as part of newly launched Ricoh Business Booster
Ricoh Europe, London, July 1, 2020 – Print Service Providers (PSPs) looking to reassess their operation and identify how to shape future developments in response to the global pandemic are being supported by the newly launched Ricoh Business Booster programme.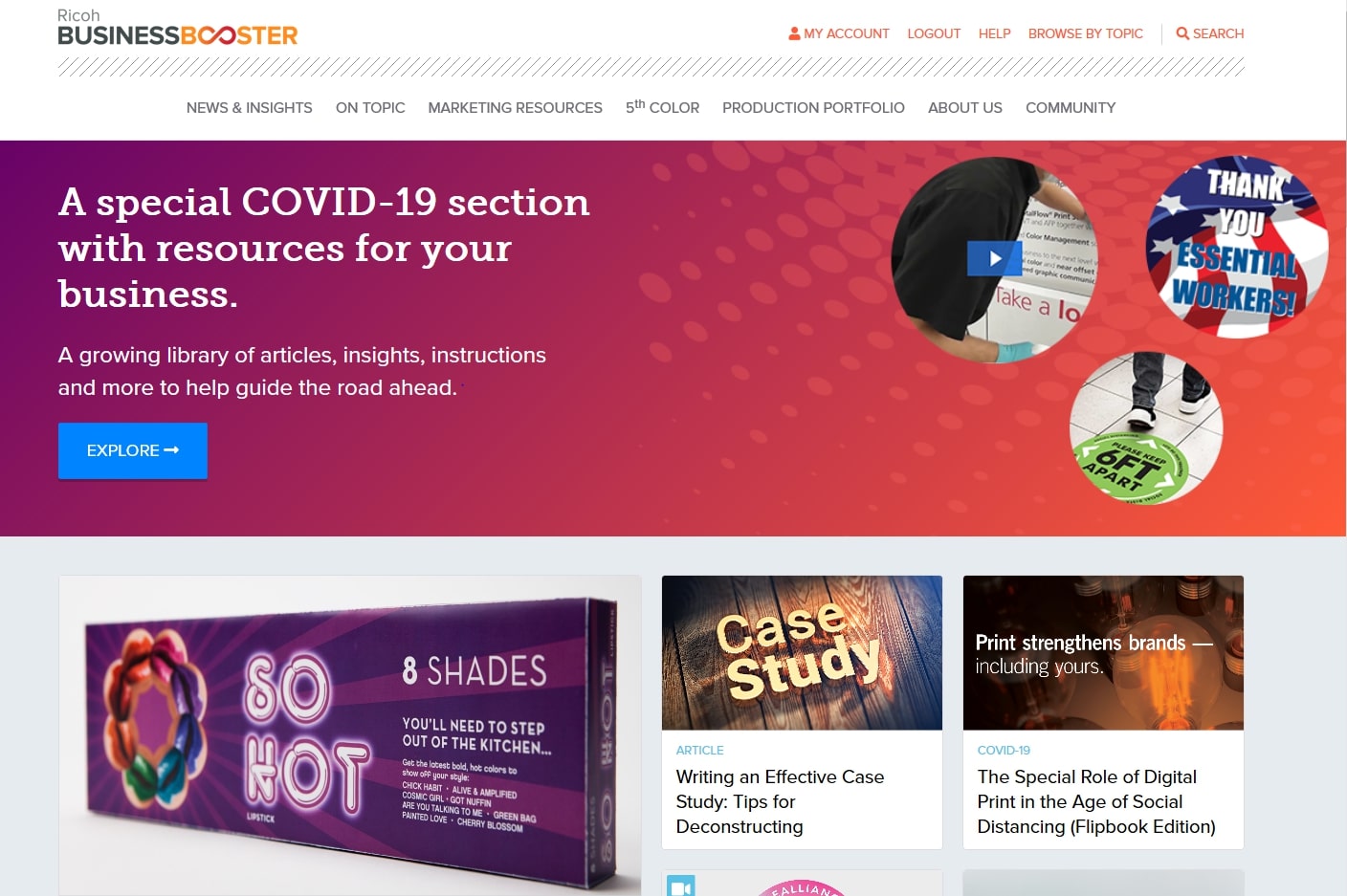 Free to clients that operate a Ricoh production printing press, Ricoh Business Booster contains a wealth of information including advice and ideas on what the next steps could be in a post Covid-19 marketplace. It also provides a wide choice of easily downloadable social distancing signage artwork.
It comprises a growing library of dedicated Covid-19 related articles, insights and instructions. It also features across the board business and product development support, case studies, videos, webinars and designs and templates. The latter includes specific guidance for 5th colour production, such as white, neon and invisible red, on the
Ricoh ProTM C7200x
digital colour sheetfed press.
"The Ricoh Business Booster programme represents one of a number of key initiatives Ricoh is investing in to help our clients," says Erwin Busselot, Business Innovation & Solutions Director, Commercial and Industrial Printing Group. "Our ambition is to not only provide them with practical tools and resources but also to create a strong community, sharing ideas and approaches to support the good of the print industry. Operations are identifying what their new normal is in response to numerous unprecedented pressures and continuing challenges. Ricoh Business Booster is designed to help them draw on any number of the featured topics so they can be flexible in their response and adapt accordingly. Being able to confidently reshape their approach will drive successful growth."
| About Ricoh |
Ricoh is empowering digital workplaces using innovative technologies and services that enable individuals to work smarter from anywhere.
With cultivated knowledge and organizational capabilities nurtured over its 85-year history, Ricoh is a leading provider of digital services, information management, and print and imaging solutions designed to support digital transformation and optimize business performance.
Headquartered in Tokyo, Ricoh Group has major operations throughout the world and its products and services now reach customers in approximately 200 countries and regions. In the financial year ended March 2022, Ricoh Group had worldwide sales of 1,758 billion yen (approx. 14.5 billion USD).
For further information, please visit www.ricoh-europe.com
© 2023 RICOH COMPANY, LTD. All rights reserved. All referenced product names are the trademarks of their respective companies.
For further information, please contact: 
Ricoh Europe PLC
Charlotte Fernandez
E-mail: media@ricoh-europe.com
Homepage: www.ricoh-europe.com
Join us on Facebook: www.facebook.com/ricoheurope
Follow us on Twitter: www.twitter.com/ricoheurope
Follow us on LinkedIn: http://linkedin.com/company/ricoh-europe
Visit the Ricoh media centre at: www.ricoh-europe.com/press