Grafoprojekt expands production horizon with Europe's first Ricoh Pro™ T7210
Ricoh Europe, London, 16 May 2018 – Croatian general commercial print service provider Grafoprojekt is embracing new production opportunities after investing in Europe's first Ricoh Pro T7210 UV flatbed solution, supplied by Ricoh partner Eurocop. The 100 square metres per hour Greenguard certified system has allowed the operation to explore new markets and win new business.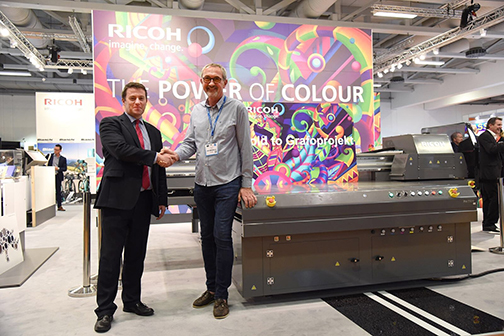 Founded in 1988, the family owned operation with ten employees, supports a broad client base. Its wide variety of services range from brochures, leaflets, posters, catalogues, labels, business cards and books to standalone advertising signage, billboards and stands.
Goran Božanić, owner of Grafoprojekt says: "We continuously monitor market trends and invest in the latest technologies to enable us to better support our clients' requirements. We have established a strong reputation for a fast, reliable and high quality service. The Pro T7210 is helping us to continue to deliver that while enabling us to move into new market sectors. One of our first jobs was for interior panels for a hotel. The client was very happy with the results and we are excited to be able to expand our services in this way."
Graham Kennedy, Head of Commercial Inkjet Business, Commercial & Industrial Printing Group, Ricoh Europe, comments: "The ProT7210 is a highly versatile system. Its ability to handle a wide range of substrates and sizes allows commercial and industrial printers to take a more creative market approach. With it they can very easily broaden their print production horizons, develop new markets and win new business."
The Ricoh Pro T7210 can be seen in action at FESPA (Berlin, 15-18 May 2018) and at Print4All (Milan 29 May-1 June 2018).
For more information about Ricoh please visit www.ricoh-europe.com.