Creative DM Factory elevates high quality full colour variable print capability with Ricoh Pro™ VC60000
Creative DM Factory elevates high quality full colour variable print capability with Ricoh Pro™ VC60000
Ricoh Europe, London, 15 December 2020 – Creative DM Factory has chosen to modernise its full colour variable digital printing capabilities and drive greater campaign engagement with a Ricoh Pro VC60000 high speed continuous feed digital colour press.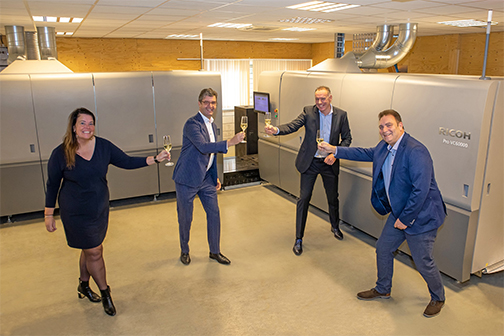 The Dutch family run full service printing business specialises in self-mailers and response-enhancing inserts in mail packs. Its new system will enhance its delivery of high quality full colour print on a wide range of substrates.
Jacqueline ten Klei, owner and commercial manager, explains: "With the Ricoh Pro VC60000 inkjet printer we can take the next step in direct mail together with our clients. It will enable us to offer more options to produce and personalise campaigns effectively and efficiently, which will result in higher conversion rate. This is important because direct mail is all about conversion. It will also be able to print full colour promotions from a blank roll of paper in one pass.  It cuts waste and storage which saves time and money."
She added the press's ability to manage different types of offset paper - woodfree and silk - up to 300gsm was also an important factor: "We see many additional applications, especially for jobs on paper between 170gsm and 300gsm. As well as names and addresses, we can change text and images – all on heavier paper. We can also add creative finishes with shutters, scratch layers or sliding cards to create interaction."
The operation runs a number of Ricoh toner presses but identified an opportunity to expand its production possibilities with an inkjet system. ten Klei added: "An important reason for choosing this solution was the print quality that is absolutely competitive to offset. The productivity is extremely important, too."
Sander Sondaal, Director Commercial Print Sales, Commercial and Industrial Printing Group, Ricoh Europe, comments: "We are now seeing a comeback of traditional direct mail in combination with data-driven and interactive communication. Creative DM Factory has been a pioneer in this area for decades. We are very proud to support them in producing and personalising direct mail campaigns more efficiently."
The new Ricoh Pro VC60000 will be fully operational at the start of the new year.
About Creative DM Factory
Creative DM Factory's philosophy is short and sweet: DM must make an impression, messages must be read better and understood and ultimately lead to conversion. With 60 years of knowledge and experience, Creative DM Factory wants to contribute to that process. The aim is: to realise total concepts together with clients in which creative, digital and technical possibilities are united and used to optimise the result.
For more information visit www.creativedmfactory.nl. 
| About Ricoh |
Ricoh is empowering digital workplaces using innovative technologies and services that enable individuals to work smarter from anywhere.
With cultivated knowledge and organizational capabilities nurtured over its 85-year history, Ricoh is a leading provider of digital services, information management, and print and imaging solutions designed to support digital transformation and optimize business performance.
Headquartered in Tokyo, Ricoh Group has major operations throughout the world and its products and services now reach customers in approximately 200 countries and regions. In the financial year ended March 2022, Ricoh Group had worldwide sales of 1,758 billion yen (approx. 14.5 billion USD).
For further information, please visit www.ricoh-europe.com
© 2023 RICOH COMPANY, LTD. All rights reserved. All referenced product names are the trademarks of their respective companies.
For further information, please contact: 
Ricoh Europe PLC
Charlotte Fernandez
E-mail: media@ricoh-europe.com
Homepage: www.ricoh-europe.com
Join us on Facebook: www.facebook.com/ricoheurope
Follow us on Twitter: www.twitter.com/ricoheurope
Follow us on LinkedIn: http://linkedin.com/company/ricoh-europe
Visit the Ricoh media centre at: www.ricoh-europe.com/press