Cicero Digital signs for Ricoh Pro™ C9110 and Ricoh Pro™ C7110 at Drupa 2016
Ricoh Europe, London, 03 June 2016 – Norwegian print service provider Cicero Digital and Graphic has signed for a Ricoh Pro™ C9110 heavy duty colour cut sheetfed printer and a Ricoh Pro™ C7110 digital colour cut sheetfed press. 

The deal, signed on Ricoh's drupa 2016 stand in Hall 8a, also includes a full Plockmatic finishing line that will run inline with the Pro C9110 to deliver complete solutions with fewer human touchpoints.  

It follows an internal restructuring that resulted in the decision to focus on digital production. The new installations will replace one of its offset press.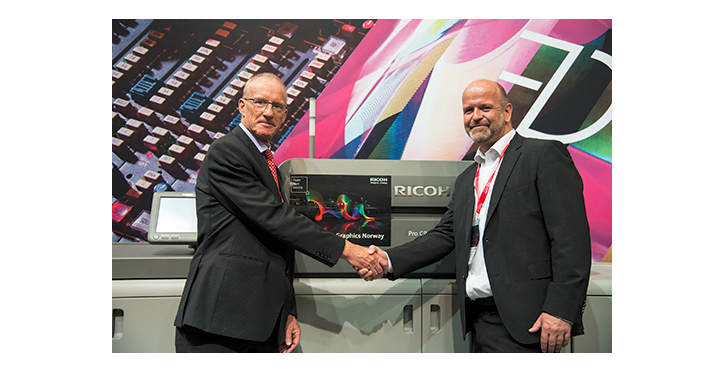 Owner Arne Bulow-Berntzen says: "With the new presses we will be able to be more efficient with fewer people. We will produce more of our offset work on digital and that will make us more cost-effective on short run work."  

He explains the reasoning behind choosing the two presses: "The Ricoh Pro C9110 will be our day-to-day production press for the majority of our corporate print. Running inline with the Plockmatic solution means we can let it run, print and finish complete products with no operator intervention.   

"With the ability to produce banners up to 700mm in length, and its fifth unit, the Ricoh Pro C7100 will allow us to deliver more creative results and so will be focussed on more value added print production." 

The Cicero business was established in 1964. Cicero Digital and Graphic offers digital and offset print and prides itself on quality, service, flexibility and security of supply. The E1m turnover operation works with corporate clients as well as associations and public sector operations. 

It is Cicero's first Ricoh investment and Bulow-Berntzen explains: "We chose them largely on the references we have heard. I know many printers in Norway and the ones running Ricoh systems are very satisfied. They especially like the technology behind the print quality." 

As for the impact he expects the investment to have, he comments: "At the start of the year we thought our annual turnover would be 6.5m Norwegian Kroner but we are already expecting it to be more than Norwegian Kroner 10m and the new presses will drive this even further." 

Peter Williams, Executive Vice President, Production Printing, Ricoh Europe, adds: "Buying a press with Ricoh is only the start of our relationship. We are very keen to help Cicero grow their business as they focus on digital production print." 

The Pro C9110 runs at speeds up to 130ppm. It supports uncoated, textured and coated media up to 400gsm, as well as duplexed long sheet printing up to 700mm and even speciality media, such as super-gloss, magnetic, transparent and synthetic.  

An enhanced version of Ricoh's Vertical Cavity Surface Emitting Laser (VCSEL) technology provides image quality up to 1200 x 4800 dpi while high colour consistency is assured by Ricoh's automatic image feedback technology that provides continuous colour density calibration. 

A liquid cooling system for continuous printing, enhanced ORUs (Operator Replaceable Units) and toner bottles, and media changes on the fly ensure maximum up time.  

The highly productive Pro C7100 delivers print speeds up to 90ppm and supports media up to 360gsm.  It too achieves optimum image quality up to 1200 x 4800 dpi with Ricoh's VCSEL technology.  

It assures a premium finish, and supports an extensive range of media, including textured, and enables many different applications such as light packaging, demo packaging, direct mail, books, brochures and business cards. A key feature of the Pro™ X series is its fifth colour station allowing clear gloss or white applications, offering print services providers significant additional revenue opportunities. It can also produce banners up to 700mm in length.