Ricoh to launch new material for high speed 3D printer at formnext
Company first to develop polybutylene terephthalate (PBT) for SLS® machine
Ricoh Europe, London, 27 October 2017 – Ricoh is launching a new material for its SLS® RICOH AM S5500P 3D printer to give customers access to a broader range of applications.
PBT is a high strength, heat resistant material. Its compatibility with Ricoh's first branded 3D printer meets the growing demands of Additive Manufacturing (AM) innovators for lighter components, faster production time and lower cost of prototyping. The application range of PBT includes parts for electrical components ranging from automotive motors to bathroom furnishings. The target material properties of PBT for SLS machines is to have similar properties as injection molding.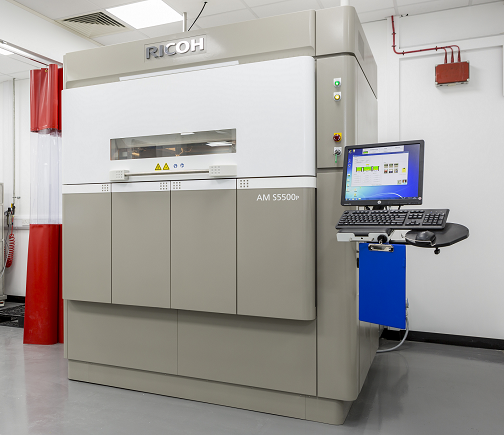 PBT samples will be displayed by Ricoh during formnext – the international exhibition and conference on the next generation of manufacturing technologies. Ricoh's AM experts will be at Hall 3.0, stand D20 throughout the event, which takes place at the Messe Frankfurt, Germany from 14-17 November.

The material will be made available to Ricoh customers by mid-2018.  

Greg Plowman, Director of Ricoh Europe's European Additive Manufacturing Business Group said: "A long and successful future for the AM market is intrinsically linked to regular advances in material sciences. PBT is an important material. It is high strength, heat resistant and maintains its shape during the forming process. Crucially, it enables part producers to remain close to intended manufacturing specifications".

Get your free ticket to formnext
Ricoh is offering a limited number of free tickets to formnext. Go to events.ricoh-europe.com/formnext2017 to register. Visitors to the Ricoh stand at the event can also enter a draw for a chance to win a Ricoh THETA V camera – with one being given away each day of the event.

For more information visit www.ricoh-europe.com/3d-printing.