Zalsman expands inkjet capacity with Europe's first Ricoh ProTM VC70000
Ricoh Europe, London, 02 October 2018 – Zalsman, a leading graphics media solutions company in the Netherlands, has chosen to expand its inkjet capabilities having placed Europe's first order for a Ricoh Pro VC70000. The deal follows Zalsman's global first which was its installation of a Ricoh Pro™ VC60000 three years ago.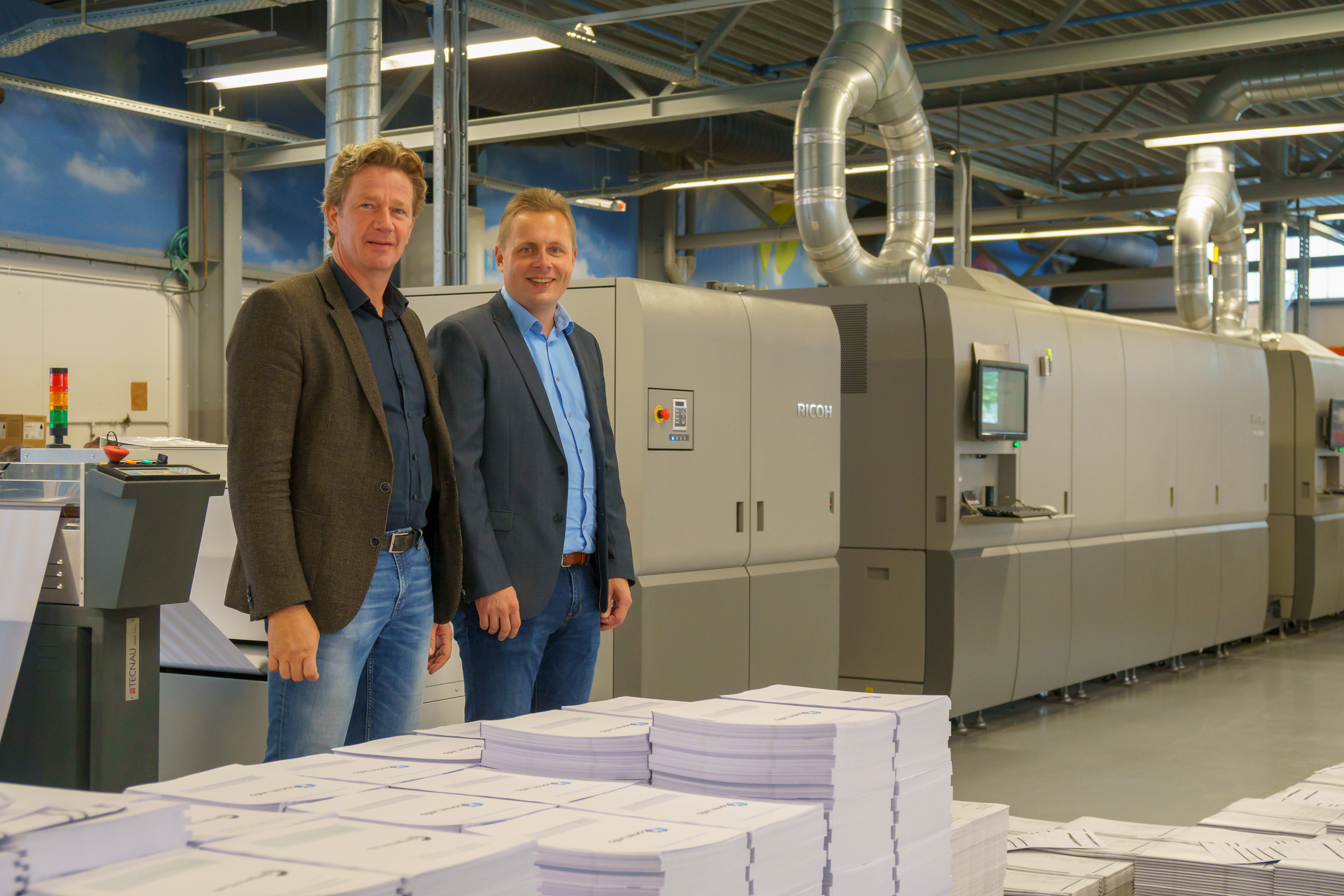 The Pro VC70000 will complement its Pro VC60000 inkjet production system at its digital printing facilities near Groningen. "Inkjet is growing very fast within our company", says Herman Verlind, director and co-owner of Zalsman. "That growth is now set to only accelerate."
Today, its Pro VC60000 is running at full capacity and Zalsman is looking for both back up and further expansion. Frans Selles, director of Zalsman Innovative Print, adds: "By really pushing the Pro VC60000 to its limits by, for example, printing on 300 gsm paper, we have gathered a lot of knowledge and experience in inkjet over the last three years. It delivers offset-like quality in inkjet on offset coated silk and gloss paper, even at high speed of 150 metres per minute."
This new production system will also be the first to use Ricoh's latest inkjet inks. The Pro VC70000 incorporates a new drying technology that enables even high coverage applications to dry quickly. This further increases the range of application opportunities and lowers costs. The new inks also enable a significant boost in colour gamut.
Since installing its first inkjet system, Zalsman's digital printing turnover has tripled and is now almost 30 per cent of total turnover. "And this could very well be 50/50 by 2020", says Verlind. "The high quality and efficiency of inkjet is causing print jobs to shift from our offset presses and toner based systems to inkjet. Our clients can't tell the difference anymore when it comes to the final product. This enables us to always choose the most efficient way to produce any individual order. And ever more often, inkjet will play a major role."
Eef De Ridder, Vice President Commercial Printing, Commercial and Industrial Printing Group, Ricoh Europe, says: "This new platform and these new inks are exactly what the printing industry has been waiting for. For Zalsman the combined print quality and versatility of our inkjet technology is enabling a significant transition from offset to digital."
To support the Pro VC70000 Zalsman will also install Tecnau finishing equipment.
For more information visit www.ricoh-europe.com.