Slovenia Post expands into books, brochures and elevated production with two Ricoh Pro™ VC40000s
Slovenia Post expands into books, brochures and elevated production with two Ricoh Pro™ VC40000s
Ricoh Europe, London, 28 April 2021 – Just six months after setting up a new print production operation in Zagreb, Croatia, with a Ricoh Pro VC40000 high speed continuous feed digital colour press, Slovenia Post has invested in a second system in Ljubljana, Slovenia.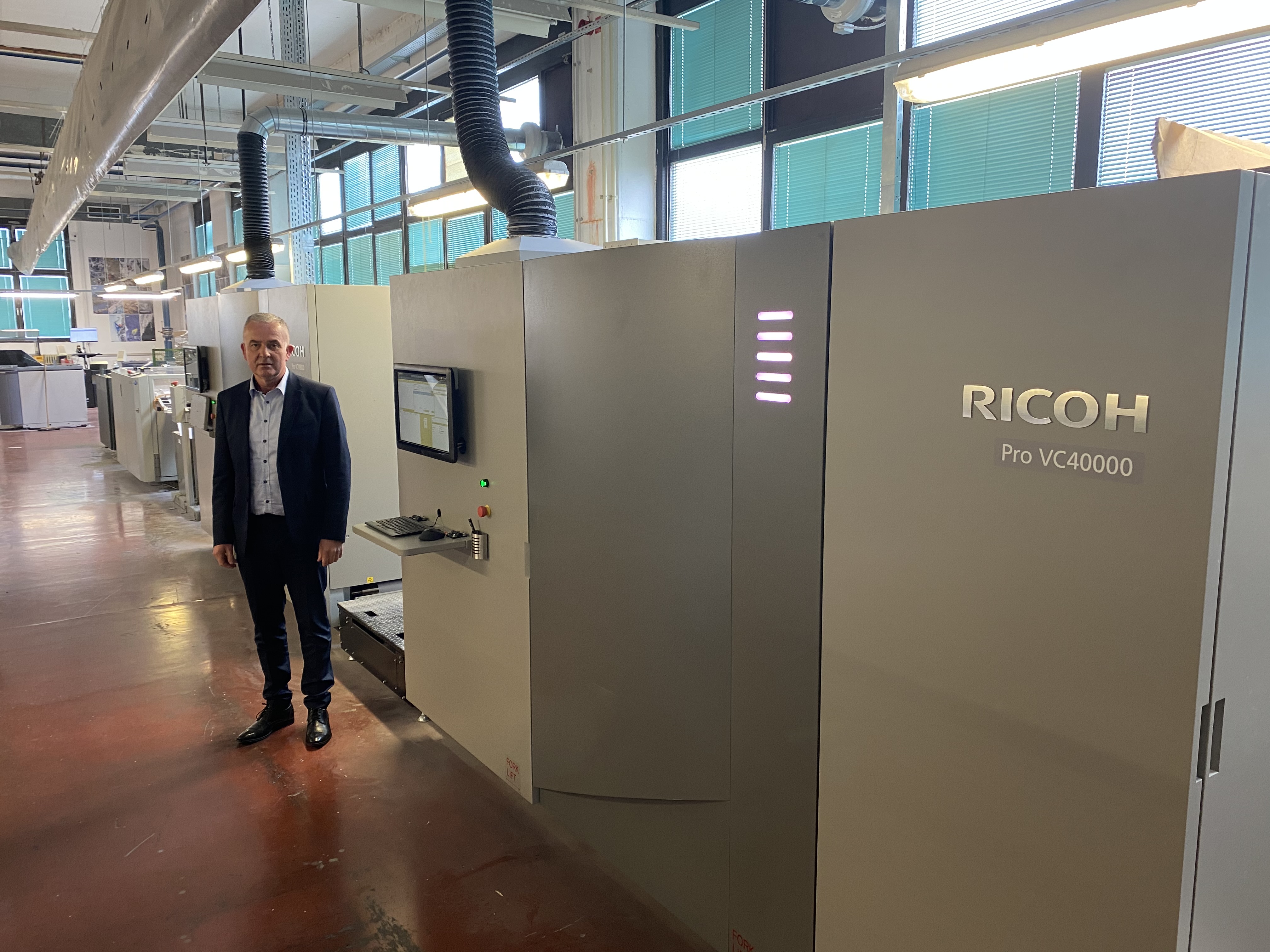 The nationally owned operation chose the Ricoh technology, combined with software and finishing capabilities, to introduce its transactional and variable data printing expertise into the Croatian market. It also took the opportunity to move into books and brochure production. The Pro VC40000's mix of cost effective quality, productivity and media flexibility was key to the decision. Equally important was the relationship Slovenia Post formed with Ricoh and its regional representative Eurocop.
"We wanted to establish a presence in Croatia and worked together with Ricoh and Eurocop on a complete end to end solution that initially focused on allowing us to easily switch from variable data printing to transactional print," explains Vili Hribernik, Slovenia Post's Managing Director: "Then we were shown how the quality achievable and the range of media available would be ideal for books and brochures. We were even supported in subsequently winning a multimillion book order with a national school book provider. It will go a long way to helping us obtain a fast return on investment."
The installation of the first complete end to end system was so successful that an identical solution was chosen to replace a seven year old continuous feed line in Ljubljana. After first elevating the production of transactional and variable data print it will help Slovenia Post establish new business in books and brochures in its home territory.
Adds Vili Hribernik: "We were given extensive help to identify all the elements we needed to create a complete solution that fits us, our workload and is responsive to our clients' needs. The installation in Zagreb went so well and has achieved such positive results that we wanted to replicate that in Ljubljana. We were supported every step of the way and that gave us the confidence to implement our ambitious plans."
Clive Stringer, Director Continuous Feed and High End Software Sales, Ricoh Graphic Communications, Ricoh Europe, comments: "Relationships are vital. Slovenia Post was confident enough to rely on Ricoh and Eurocop to invest in the Pro VC40000 to elevate the production quality and expand into new markets. Then, just six months later, based on how well the installation had gone, it chose to enhance its Ljubljana operation with the same technology. We are proud to have helped Slovenia Post take such a bold step in these challenging times and we will continue to support it as it maximises the opportunities now available."
| About Ricoh |
Ricoh is empowering digital workplaces using innovative technologies and services that enable individuals to work smarter from anywhere.
With cultivated knowledge and organizational capabilities nurtured over its 85-year history, Ricoh is a leading provider of digital services, information management, and print and imaging solutions designed to support digital transformation and optimize business performance.
Headquartered in Tokyo, Ricoh Group has major operations throughout the world and its products and services now reach customers in approximately 200 countries and regions. In the financial year ended March 2022, Ricoh Group had worldwide sales of 1,758 billion yen (approx. 14.5 billion USD).
For further information, please visit www.ricoh-europe.com
© 2023 RICOH COMPANY, LTD. All rights reserved. All referenced product names are the trademarks of their respective companies.
For further information, please contact: 
Ricoh Europe PLC
Charlotte Fernandez
E-mail: media@ricoh-europe.com
Homepage: www.ricoh-europe.com
Join us on Facebook: www.facebook.com/ricoheurope
Follow us on Twitter: www.twitter.com/ricoheurope
Follow us on LinkedIn: http://linkedin.com/company/ricoh-europe
Visit the Ricoh media centre at: www.ricoh-europe.com/press