Ricoh to inspire print innovators with largest ever range of transformative print solutions at drupa 2020
Ricoh Europe, London, 19 November 2019 - Ricoh is set to show Print Service Providers (PSPs) how to Love The Way Ahead and enjoy a successful transformative print journey by presenting its biggest ever portfolio of versatile solutions at drupa 2020. The world's largest printing trade show runs from June 16 to 26 at Messe Düsseldorf, Germany.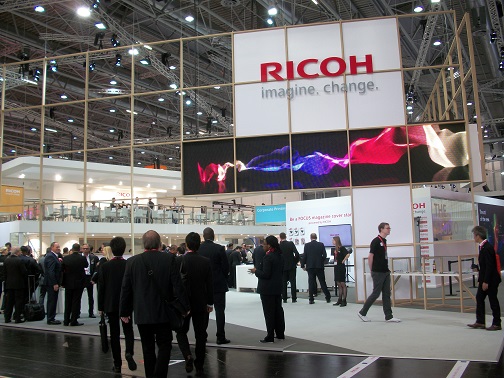 Taking 1800sqm in Hall 8a, Ricoh will also encourage PSPs to embrace Henkaku (the Japanese vision for innovative change) by highlighting ways they can apply pioneering technology and innovative thinking to support evolution and growth.
Leading solutions on show that deliver on this emboldened mindset and demonstrate Ricoh's long history of collaborative development will include the:
Pro™ VC70000 high speed inkjet press. Among its own developed technology is the 43 patent holding, award winning dryer and new extended gamut inks. 
Expanded application benefits of the enhanced Pro™ C7200 and Pro™ C9200 sheetfed colour presses that feature new paper handling capabilities. 
Latest version of Ricoh ProcessDirector, plus Ricoh Supervisor. Both software solutions are designed to streamline production while a solutions studio workflow will detail how they elevate efficiency.
Ricoh's hugely popular commercial and industrial solutions will also be on show, including the Buyers Lab award winning  ProTM L5160 dual CMYK large format production printer and the versatile SGIA award winning Ri 1000 Direct to Garment printer. These, together with some new developments still under wraps, demonstrate a credible commitment to transformational innovation. They incorporate innovative research and development focused on helping PSPs future proof their print production.
Dedicated zones will feature real life applications from a wide array of Ricoh systems delivering inspiration around the imaginative creativity possible. A live end-to-end workflow will provide real time insight into optimum production possibilities.
"Since last drupa our portfolio of services and solutions has been significantly expanded to support creative print service providers, industrial printers and Sign and Display specialists as they transform their operations to meet the increasingly broad requirements of their clients," states Eef De Ridder, Vice President, Commercial and Industrial Printing Group, Ricoh Europe. "It now includes everything from productive high speed colour inkjet and versatile enhanced sheetfed technologies to responsive large format latex and flexible wide format solutions, as well as simple to integrate Direct to Garment (DTG) systems. All are supported by our carefully curated suite of software solutions designed to simplify, streamline and smoothly manage today's increasingly diverse production workflow.
"With all of these, and by applying our knowledge and insight, we can help PSPs shape their successful future, create new opportunities, access new markets, overcome production challenges and speed up processes. We want to fully support their successful print journeys so they can Love The Way Ahead. We want to help them thrive using real world solutions with game-changing technologies. We look forward to demonstrating that at drupa."
For more information visit www.ricoh-europe.com.