Ricoh Supervisor and Ricoh Communications Manager ease decision making and print job management
Ricoh Europe, London, 31 January 2019 – Print Service Providers (PSPs) will benefit from smarter decision making processes and integrated communication platforms with Ricoh Supervisor and Ricoh Communications Manager (RCM). The new software solutions have been designed to help the profitable management of increasingly diverse and often complex jobs.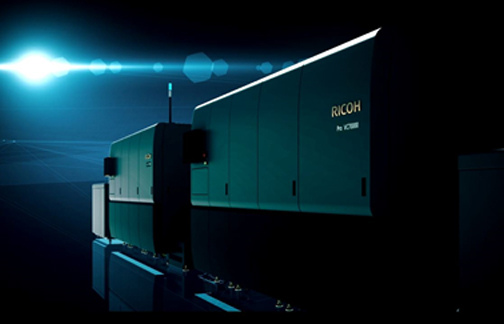 Ricoh Supervisor is a highly interactive Internet of Things solution focused on collecting, and securely storing, operational data from sheetfed or continuous feed printers, finishing equipment, software applications and manually from operators on the shop floor. Cloud based and vendor-agnostic, it elevates profitability and productivity by enabling PSPs to quickly and accurately gather high value operation-wide data to help drive improvements and overall efficiencies. This could be ink usage per job, total equipment downtime or operator performance. 
The data can be accessed via a browser or mobile device and, using business Intelligence tools, uploaded to an analytical dashboard to display trends, inefficiencies, consumables and sales cycles to help drive better business results.
Eef de Ridder, Vice President, Commercial Printing of the Commercial & Industrial Printing Group, Ricoh Europe, comments: "Ricoh Supervisor helps PSPs make smarter decisions so they can stay competitive and relevant in today's marketplace. They can run complete operational assessments and view critical events that paint a true picture of system utilisation. This includes comparing the actual throughput with what is scheduled to help performance optimisation."
Also cloud-based, Ricoh Communications Manager provides end to end workflow and customer experience management. Integrating with a range of different types of solutions such as workflow automation (eg Ricoh ProcessDirector) and MiS systems (eg Avanti Slingshot) It connects, manages and reports on digital and print communication. Offered as a Software as a Service, the scalable solution focuses on providing a repeatable and predictable way to connect the functional components of a typical Customer Communications Management (CCM) system. 
Adds de Ridder: "RCM supports PSPs who are moving away from single point, standalone solutions toward integrated communication platforms. It delivers complete campaign management information from the job details to billing and invoicing, provides revenue opportunities with rapid development of new services that enhance the customer experience and delivers a growth platform to create, manage and track, print and e-communications."
Both solutions will be available from April in EMEA and will be demonstrated on the Ricoh stand at the Hunkeler innovationdays event, February 25-28 in Luzern, Switzerland.