Ricoh set to debut at FESPA Digital 2016
Ricoh Europe, 16 December 2015 – Ricoh will showcase its expanding portfolio of solutions with its first-ever stand at FESPA Digital, from March 8 to 11 in Amsterdam. Visitors will be able to see the new colour MP CW2201SP wide format multifunction device for graphic arts and AEC/CAD applications plus the Ricoh Pro™ L4100 series of latex large format printers.

Ricoh will also be showing the BLI award-winning Pro™ C7100X colour cut sheet production system with a fifth colour station for clear and white toner. 

"We have been applying our technological research and development expertise to the needs of the sign and display graphics industry for some time," states Graham Moore, Director, Business Development, Ricoh Europe. "In particular, the Pro L4100 and Pro C7100X were designed to address this fast-growing sector. We have an extensive international client base as more companies look to Ricoh to enable them to confidently add new, reliable and cost effective solutions to their range of capabilities.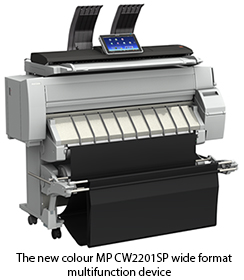 "More printing companies are becoming one stop shops, with signage being another addition to their offerings. At the same time, we are seeing sign companies looking to add new and efficient services in the world of document printing to broaden their range of application capabilities and supplement their signage business." 

The new MPC W2201SP wide format multifunction device offers best in class workflow automation. Potential buyers can choose between Copier/Printer or Scanner functionalities and use Ricoh's highly affordable pigment-based Liquid GelTM ink technology to print on plain paper, photo paper or onto a blue back media range. Capable of printing advertising and other graphic arts applications for outdoor as well as indoor environments, the MPC W2201SP is a versatile output device.

The Ricoh Pro L4100 series features the latest generation of Ricoh's own piezo variable drop print heads, which can deliver latex ink droplets as small as four picolitres, offering durable printing for outdoor and indoor applications. Low environmental impact is another important benefit of the devices as they consume less power than their closest competitor models due to lower print heater temperature.

Users can choose between page widths of 1361mm or 1610mm, and print on a wide range of media, from PVC to paper to textiles. These printers have an optional ColorGATE menu-driven RIP for exact feature set specification.

Moore adds. "Ricoh is a total solutions supplier with a fast expanding portfolio of innovative products and services designed to help our clients achieve maximum business success. These new solutions we are going to show at FESPA Digital not only broaden the product range, they also deliver professional quality and an efficient production." 

For more information visit www.ricoh-europe.com/fespa2016.