Ricoh set for electronica 2016 with automotive innovation and energy harvesting technology
Amstelveen, the Netherlands, 06 October, 2016 – Ricoh Electronic Devices Company, Ltd. (REDC) and Topas are attending electronica, the leading international trade fair for electronic components, systems and applications, to share insight and demonstrate product capabilities. REDC will return to the event in Munich for the eighth time from 8-11 November.  

Visitors to the REDC and Topas booth will discover how Ricoh helps customers to open new worlds of opportunity to optimise and grow their business. 

Highlights include: 

Success stories of REDC products implemented in customers' applications. Here, you can learn more about Ricoh's customised solutions of automotive Power Management ICs, Li-Ion Battery Management ICs (used in Power Tools), and PMU ICs on CPU modules.
Demonstration of Ricoh's commitment to innovation with new technologies including Energy Harvesting. Discover the nanoWatt (nW) products demo kit enabling revolutionary chips to convert energy derived from sources like solar power, kinetic and thermal energy into power.
Presentation of new LED lighting technology. Explore the R1580N Constant Current LED Driver Controller that can effectively eliminate flickering and EMI noise, resulting in smooth dimming control of the LED.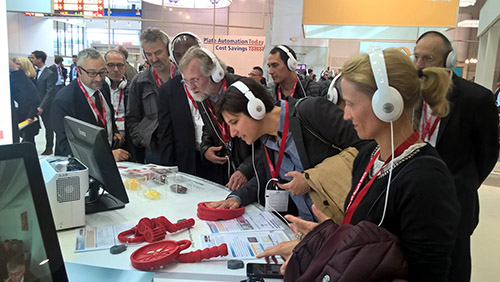 Our stand: Hall A4, Booth 523 
For more information, visit http://www.e-devices.ricoh.co.jp/en/


Ricoh Electronic Devices Company, Ltd. (REDC) is a fully owned subsidiary of Ricoh Company, Ltd. developing, manufacturing and selling semiconductor products to general electronics manufacturers worldwide. As a leading global provider of Power Management and Real Time Clock ICs, REDC has a strong market position in the Consumer industry, now gradually increasing business in the Automotive, Industrial, Internet of things (IoT) and Medical markets.

Ricoh products include Low Dropout Regulators (LDO's)/Voltage Regulators, Supervisory ICs, DC/DC Converters, Load Switches, Li-Ion Battery Protection, PMU's, and Real Time Clock (RTC) ICs, available through authorized distributors and online via Mouser.com and Chip1Stop.com.

For further information, please visit www.e-devices.ricoh.co.jp/en/ or contact:

Ricoh Europe (Netherlands) B.V., Semiconductor Support Centre
Hans Adams, Manager
Tel: +31 (0) 20 5474 309
E-mail: semicon@ricoh-europe.com