Ricoh selected as a member of the Sustainability Yearbook 2023 by S&P Global
Ricoh selected as a member of the Sustainability Yearbook 2023 by S&P Global
Positioned in the top 5% in the Computers & Peripherals and
Office Electronics industry
TOKYO, February 9, 2023 – Ricoh has been selected as a member of the Sustainability Yearbook 2023, with a score within the top 5%* in its industry. The Yearbook is compiled by S&P Global, a world leader in corporate ratings.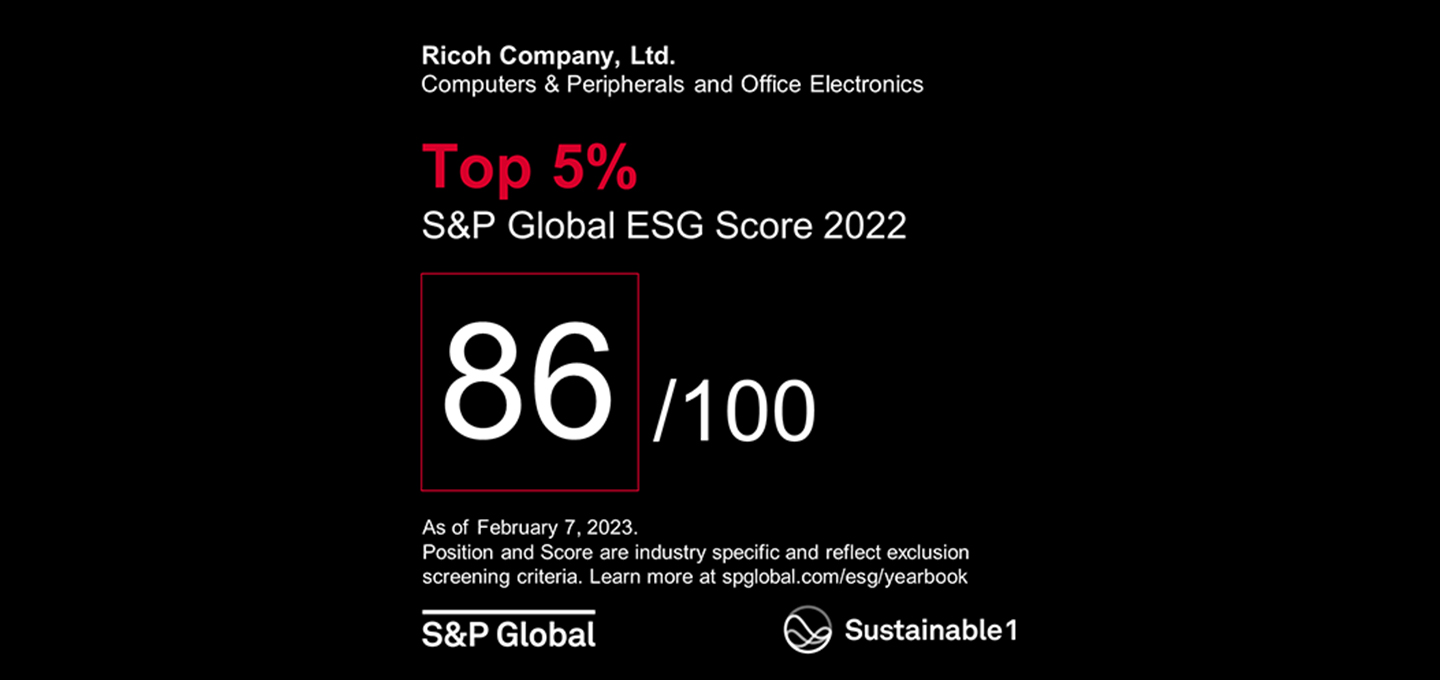 Each year, S&P Global assesses major companies' sustainability in the three areas of Economic, Environment, and Society. Companies with outstanding sustainability efforts in each industry group are selected and awarded as members of the Sustainability Yearbook. S&P Global evaluated approximately 7,800 companies in 61 industries worldwide this year, with 708 companies included in the Yearbook.
In the Computers & Peripherals and Office Electronics industry, one company was in the top 1%, with Ricoh and five others in the top 5%. This marks the fifth consecutive year, since 2019, that Ricoh has been selected as a member of the Sustainability Yearbook.
Ricoh has identified seven material issues, set 17 ESG priority targets, and incorporated them into the Group's business strategies. Ricoh will contribute to achieving the Sustainable Development Goals agreed upon by the international community by solving social issues through business and realizing a sustainable society.
*As of February 7, 2023
Related links
The Sustainability Yearbook - 2023 Rankings
Ricoh's Commitment to Society and ESG Index Inclusion and Recognition
| About Ricoh |
Ricoh is empowering digital workplaces using innovative technologies and services that enable individuals to work smarter from anywhere.
With cultivated knowledge and organizational capabilities nurtured over its 85-year history, Ricoh is a leading provider of digital services, information management, and print and imaging solutions designed to support digital transformation and optimize business performance.
Headquartered in Tokyo, Ricoh Group has major operations throughout the world and its products and services now reach customers in approximately 200 countries and regions. In the financial year ended March 2022, Ricoh Group had worldwide sales of 1,758 billion yen (approx. 14.5 billion USD).
For further information, please visit www.ricoh-europe.com
© 2023 RICOH COMPANY, LTD. All rights reserved. All referenced product names are the trademarks of their respective companies.
For further information, please contact: 
Ricoh Europe PLC
Charlotte Fernandez
E-mail: media@ricoh-europe.com
Homepage: www.ricoh-europe.com
Join us on Facebook: www.facebook.com/ricoheurope
Follow us on Twitter: www.twitter.com/ricoheurope
Follow us on LinkedIn: http://linkedin.com/company/ricoh-europe
Visit the Ricoh media centre at: www.ricoh-europe.com/press