Ricoh Pro™ VC60000 wins Elsevier print quality approval
Ricoh Europe, London, 12 November 2015 – Following extensive testing, one of the world's leading information solutions providers, Elsevier (part of RELX Group ), has approved Ricoh's Pro™ VC60000 continuous feed production inkjet platform for its list of validated High Quality inkjet print engines.

"Throughout their testing process Elsevier has been very impressed with the quality of the Pro VC60000. So much that it specifically wanted to open up its list of approved vendors to take advantage of these latest developments in technology," comments Graham Moore, Director Business Development, Ricoh Europe. 

"Digital printing can result in better quality than offset," states Johan van Slooten, Senior Director Global Procurement - Direct Spend at Elsevier. "The detail and sharpness of some of the inkjet samples provided by Ricoh were indeed better than offset in our opinion.  The platform is also ideal for short-run digital printing. Ultimately Elsevier would like to use equipment like this for true Single Copy On-Demand Book Production".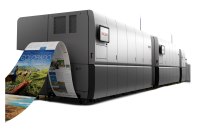 The versatile colour Ricoh Pro VC60000 is powered by the TotalFlow Print Server R600A, Ricoh's own Digital Front End, developed to meet the needs of demanding graphic arts environments and applications. 

The press incorporates Ricoh-developed long-lasting print heads and high viscosity water-based pigment inks, achieving a physical resolution of up to 1200x1200 dpi with dynamic variable drop size within each pixel to provide significant additional perceived print quality. 

Capable of 100,000 A4 images per hour at 120 m/min with a monthly volume of up to 40 million impressions, the Ricoh Pro VC60000 provides support for uncoated and coated offset stocks as well as inkjet optimised and recycled papers up to 250 gsm.

"The Ricoh Pro VC60000 was developed with the changing demands of the highly competitive publishing landscape at the forefront of our thinking," adds Moore. "Until now many Publishers have told us that they believed that digital inkjet could not deliver adequate print quality for high colour books and journals.  At our recent publishers' event in Boulder,  Colorado, USA, we demonstrated that the Pro VC 60000 can now deliver a quality that can actually be better than offset. With the compelling business case for short run (and long run) colour inkjet printing for books and journals, publishers can now take advantage of many new opportunities - including printing books and journals that were either printed offset or, indeed, not even printed at all."  

"Its class-leading technology was designed to enable publishers to efficiently and cost effectively produce high quality colour books and journals in volumes that their customers demand. Elsevier's recognition demonstrates that it believes in high quality print performance as much as we do."