Ricoh Pro L4100 Series in Color-Logic first
Ricoh Europe, London, 23 March 2017
– Ricoh's
Pro™ L4100 Series
is the first latex system to achieve global
Color-Logic™
certification. It will be demonstrated at FESPA 2017 in Hamburg from 8 to 12 May.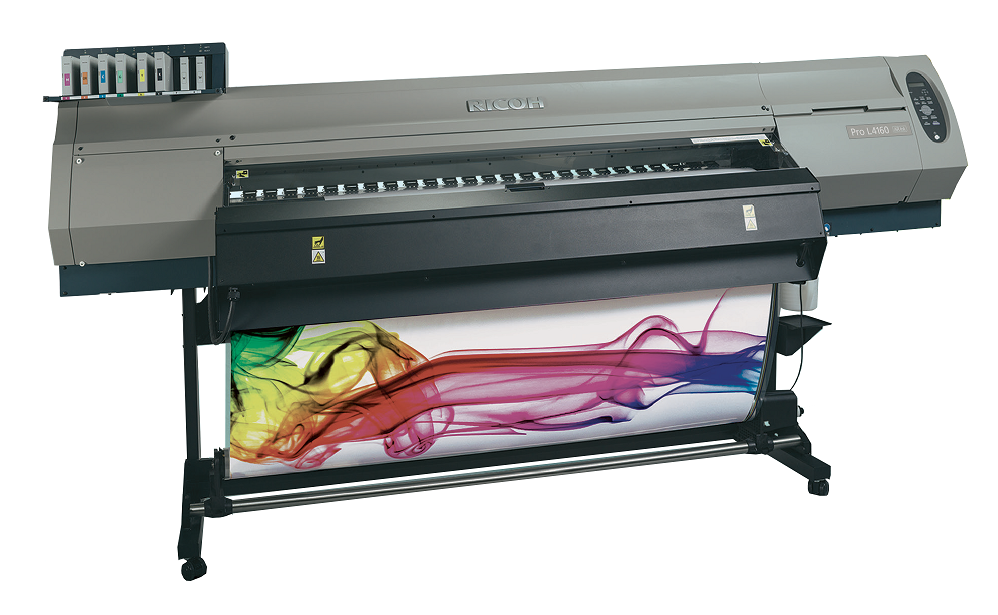 The Ricoh Pro L4100, combined with the ColorGATE Productionserver software, is now certified for use with the Color-Logic process, a global standard in metallic and decorative effect colour communications for a variety of special effect printing applications. Color-Logic's decorative effects use existing workflows to achieve dynamic results without the use of special equipment.  Its simple print production process enables print service providers to provide brand owners, product managers, corporations, and their advertising agencies with the ability to differentiate.   
The Ricoh Pro L4100 Series, with Ricoh's own non-solvent based aqueous resin inks, features the latest generation of Ricoh's piezo variable drop print heads. These can deliver latex ink droplets as small as four picolitres. It can run metallic and transparent vinyl, PET films, backlit display media and polyester substrates.
"The engine did a great job of reproducing all Color-Logic's decorative effects and 250 metallic colours," states, Richard Ainge, Chief Technology Officer for Color-Logic. "The samples received were printed on KernowJET Gloss Silver 119gsm substrate. The benefit of Ricoh's latex engine, combined with the dramatic effects created by Color-Logic's software, will create new revenue opportunities for Ricoh's print service providers and their clients."
Benoit Chatelard, Vice President, Production Printing, Ricoh Europe, says: "With the Color-Logic certification we can open new worlds of applications. With improved latex possibilities and expanded media options, including metallic, we can enable clients in the label, packaging, commercial print, POS and signage markets, or from industrial sectors such as screen printing companies, to create impactful results. This will help set them apart from the competition."
Print service providers using RIP technology other than ColorGate should check with their local Ricoh office for further details on how to utilise the Color-Logic solution and the Ricoh Pro L4100 series.
Color-Logic certification was also awarded to the Ricoh Pro™ C7100 Series with the EFI Fiery RIP and white and clear toner in 2015.
To learn more about the Ricoh Pro L4100 series please visit
www.ricoh-europe.com
.
| About Ricoh |
Ricoh is empowering digital workplaces using innovative technologies and services that enable individuals to work smarter from anywhere.
With cultivated knowledge and organizational capabilities nurtured over its 85-year history, Ricoh is a leading provider of digital services, information management, and print and imaging solutions designed to support digital transformation and optimize business performance.
Headquartered in Tokyo, Ricoh Group has major operations throughout the world and its products and services now reach customers in approximately 200 countries and regions. In the financial year ended March 2022, Ricoh Group had worldwide sales of 1,758 billion yen (approx. 14.5 billion USD).
For further information, please visit www.ricoh-europe.com
© 2023 RICOH COMPANY, LTD. All rights reserved. All referenced product names are the trademarks of their respective companies.
For further information, please contact: 
Ricoh Europe PLC
Charlotte Fernandez
E-mail: media@ricoh-europe.com
Homepage: www.ricoh-europe.com
Join us on Facebook: www.facebook.com/ricoheurope
Follow us on Twitter: www.twitter.com/ricoheurope
Follow us on LinkedIn: http://linkedin.com/company/ricoh-europe
Visit the Ricoh media centre at: www.ricoh-europe.com/press