Ricoh launches flagship A3 colour Multifunction Printers, with Smart Operation Panel, mobile connectivity and customisable application interface
Ricoh Europe, London, May 31 2016 – Ricoh today introduced a range of A3 colour printers with Workstyle Innovation Technology features that open up new ways for businesses to capture and share documents, and produce their own high quality print outputs.
With Smart Apps and a customisable interface this flagship series of nine A3 colour multifunction printers (MFPs) features a simple, intuitive touch and swipe control panel, and multiple offerings for printing and interaction with mobile devices. This is combined with innovative features, including a fast-start Human Detection Sensor, and professional banner print capability.
Designed to improve workflows in high output, multipurpose environments, these models deliver from 30 to 60ppm output along with outstanding reliability, quality and workplace productivity. They are also powered by a new Intel-based controller for enhanced printing and scanning of complex documents, as well as quicker job processing.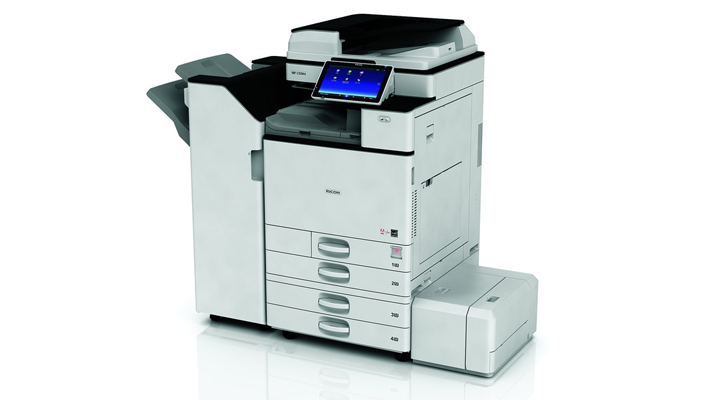 Powerful, easy-to-use Smart Operation Panel
At the heart of each model is a powerful, easy to use touch and swipe colour Smart Operation Panel that makes mobile and flexible working simple and improves workflow for staff. The layout and content of this panel can be tailored to the individual preferences of users, with immediate access to the most commonly used print, copy and scan functions through one-touch icons. The Smart Operation Panel can also be upgraded by installing new apps from Ricoh's Application Site, allowing users to customise and extend the functions offered quickly. It can also be fully tailored to fit the look and feel of any business or brand; promoting internal notices, events or new initiatives, with access to deeper information through a full internet browser.
Seamless mobile connectivity and workflow integration
These MFPs can be operated in numerous ways from smartphones and tablets, including secure NFC, Bluetooth and internet connectivity, enabling access and printing from virtually any location. Users can also scan and save documents in full colour directly to email, portable media or internal folders to speed up workflow. All this connectivity integrates easily into the current machine fleet, maximising fleet productivity and improving overall workflow.

Ricoh Europe Product Manager, Maaike Giling, says: "With their smart connectivity, customisable user interface and ability to integrate directly into a business's workflows, these intelligent MFPs bring together a number of Ricoh's 'workstyle innovation technologies'. These technologies make our products easier to use, more powerful and more connected than ever before, helping businesses make savings whilst becoming more productive, efficient and agile."
Low environmental impact
The range delivers high performance combined with low environmental impact. Innovations like staple-less finishing, 0.5 second recovery from sleep mode, and the lowest TEC values on the market, result in lower energy consumption, helping to save money on energy costs and reduce overall Total Cost of Ownership.
Other features and benefits
Human Detection Sensor enables these machines to jump into action when they see a user approaching, so users get instant availability and spend less time waiting for warm up
Paper capacity options to meet the needs of diverse workgroups offer the flexibility to load multiple stocks and sizes at the same time, including a 1000-sheet Hybrid Finisher
Professional output options, including banner-print capability, and Single Pass or Automatic Reverse Document Feeders as standard
Model information
MP C3004SP – 30ppm, four finisher options
MP C3004ASP – 30ppm, four finisher options
MP C3504SP – 35ppm, four finisher options
MP C3504ASP – 35ppm, four finisher options
MP C4504SP – 45ppm, five finisher options
MP C4504ASP – 45ppm, five finisher options
MP C5504SP – 55ppm, five finisher options
MP C5504ASP – 55ppm, five finisher options
MP C6004SP – 60ppm, four finisher options