Ricoh launches Direct to Film and Direct to Garment solution in single device for greater application versatility
Wider range of fabrics supported by retrofittable capabilities for RICOH Ri 1000 and Ri 2000 Direct to Garment printers 
Ricoh Europe, London, 01 April 2022 – Ricoh has expanded the application opportunities for Direct to Garment (DTG) printing specialists with its new versatile Direct to Film (DTF) solution.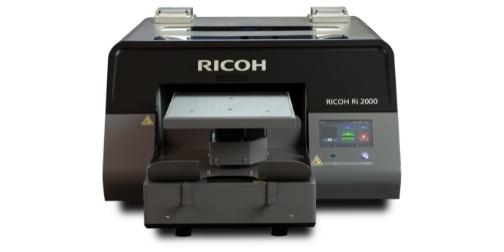 Direct to Film technology applied to garment decoration (printing on a special PET film which is transferred onto garments afterwards) broadens the opportunities for customised, short run, on demand, garment production. It does this by enabling printing on a wider range of fabrics. DTF is also ideal for corporate branding items, such as umbrellas and backpacks. The range of materials that can be printed directly as a result of DTF technology include those with water repelling surfaces like leather, nylon, and Gore-Tex. Its high fastness at heavy duty washing cycles and highly durable results makes it particularly suitable for polyester-based applications, such as workwear and sportswear. 
Fast and low cost, the retrofittable technology is an extension of Ricoh's existing
Ri 1000
and
Ri 2000
DTG capabilities. It prints a CMYK layer first and adds a white layer on top. This is a reversal of the standard DTG configuration of white first and then CMYK. 
The process allows pre-printed designs to be transferred to garments, without the need for pre-heating, using heat transfer technology. Designs can be pre-produced on PET film and stored as ready to go transfer film for quick application. Their high quality production is supported by ColorGATE Textile Productionserver V21.1 which accurately processes graphically rich artwork from creative applications.
The solution allows print specialists to create more value from their DTG investment. It also achieves very soft and flexible results and meets the Oeko-Tex standard.
Axel Stuhlreiter, Head of Textile Solutions, Graphic Communications Group, Ricoh Europe, comments: "The innovative technology enhances the versatility and flexibility of Ricoh's leading DTG printers. In just a few simple steps they can be transformed to enable DTF printing on a wide range of materials and deliver a greater variety of applications. The fast and simple process achieves highly creative results quickly and affordably."
Ricoh's Direct to Film solution is available from April across EMEA.