Ricoh introduces a breakthrough in inkjet quality on offset-coated papers: the Ricoh Pro™ VC70000 and additional inks
Ricoh Europe, London, 28 June 2018 – Ricoh Europe today announced the newest addition to its award-winning inkjet portfolio, the Ricoh Pro VC70000.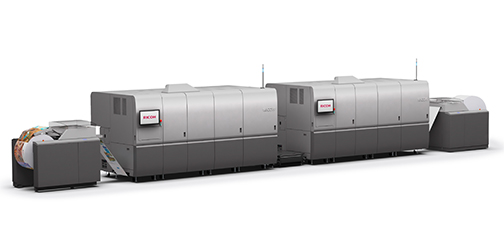 To help print providers to accelerate the transfer of offset print to digital and stand out from the competition, the new continuous feed platform empowers commercial printers to produce quality applications, such as high end catalogues and magazines, traditionally expected from offset presses.
Additionally, Ricoh-developed inks enable up to 40% savings in paper costs while also expanding media support to offset coated papers, untreated papers and more.
"We're constantly hearing from clients that they are looking for lower costs, higher quality and increased productivity. What we're announcing today delivers these requirements, emphatically," said Eef de Ridder, Vice President, Commercial Printing, Commercial & Industrial Printing Business Group, Ricoh Europe. "We are confident this new platform and new inks are exactly what the industry has been waiting for and will help Print Service Providers more quickly transfer to digital. This is a major breakthrough."
The Pro VC70000 joins the Ricoh Pro™ VC60000, Ricoh Pro™ VC40000, Ricoh Pro™ V20000 and InfoPrint 5000 in Ricoh's inkjet portfolio. It offers multiple elements that help advance inkjet printing including a new engine platform for outstanding drying capacity, and new entrance and exit modules with footprint benefits. The platform prints at speeds up to 150 metres per minute, producing nearly 130,000 A4 impressions per hour and levers Ricoh's latest state of the art piezo drop on demand print heads at up to 1200x1200 dpi resolution on uncoated, offset coated, inkjet treated or inkjet coated papers.
Initially available for the Pro VC70000, Ricoh's new inkjet inks rival the output of offset inks with their media versatility and compatibility with gloss coated stocks. They are designed to make the entire production system more versatile and economical as well as providing a significant boost in colour gamut. These latest Ricoh inks take quality enhancements further by enabling operators to print faster on a wider variety of media, including standard offset coated and uncoated papers, all with improved make-ready times.
The Pro VC70000 will be available in winter 2018 in conjunction with the Ricoh developed inks.
For more information visit www.ricoh-europe.com.