Ricoh expands long sheet application capabilities with BDT Print Media partnership
Ricoh Europe, London, 16 January 2018 – Print Service Providers (PSPs) can now meet their clients' demands for high volume long sheet document production efficiently using their Ricoh Pro™ C9100 series and Ricoh Pro™ C7100 series digital colour sheet fed presses. The news comes as a result of Ricoh's partnership with German handling specialist BDT Print Media.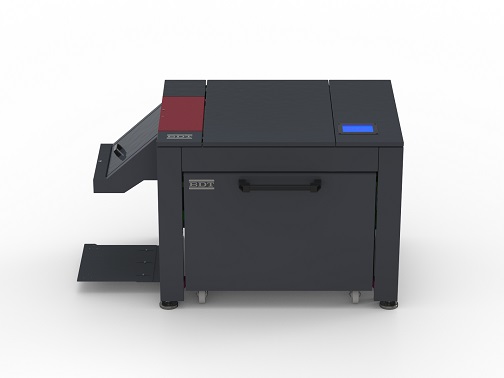 When BDT's VX370 Feeder is integrated with the colour sheet fed systems it provides PSPs with a high capacity solution for feeding with a long sheet option. It supports the efficient, high volume production of a range of applications including A4 landscape booklets, brochures, posters and six page A4 folders. 

The VX370 Feeder uses BDT's patented vacuum-free Tornado technology for media separation to handle a very wide range of media types, from 60 to 400gsm. Its lift and transport mechanism ensures the sensitive and reliable handling of coated and uncoated paper, textured substrates and synthetics. 

Media lengths up to 700mm and stacks up to 500mm can be processed; with productivity and reduced job changeover times also supported by the device's memory storage of repeat jobs. 

Eef de Ridder, Director, Commercial Printing of the Commercial & Industrial Printing Group, Ricoh Europe, comments: "The VX370 Feeder supports PSPs who need a high volume feeding solution to handle a broad range of long sheet media with outstanding application flexibility. It will open up new market opportunities, support increased productivity and contribute to profitability."

Ralf Hipp, CEO of BDT Print Media, adds: "We are delighted to work in partnership with Ricoh to offer their clients a flexible and productive solution that supports high output quality across such a broad range of media."

For more information visit www.ricoh-europe.com.