Ricoh expands IT Services portfolio with acquisitions of IPM and TotalStor
Ricoh Europe, London, 26 July 2019 – Ricoh has announced the acquisition of IPM in Spain and Totalstor in Portugal (through 100% shares acquisition) to further extend its IT Services capabilities.
Ricoh customers will benefit from an even more extensive range of IT Services solutions and support. The IPM and TotalStor business includes the transformation and modernisation of critical IT infrastructures, data storage and analytics in private and hybrid cloud, data protection, disaster recovery and virtualisation, among others. Both companies recorded total revenue of EUR 71 million in 2018 and have a significant national and international customer base. The brands will operate independently under the names IPM, a Ricoh Company in Spain and TotalStor, a Ricoh Company in Portugal.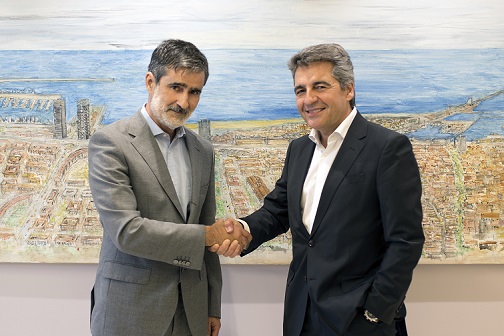 The purchase of IPM and Totalstor is a key part of Ricoh's acquisitions strategy to provide even greater customer benefits. Previous IT Services acquisitions include the Ridgian companies in the field of analytics, Aventia for user experience and ecommerce, Techno Trends in the field of unified communications and video conferencing systems, and LAKE Solutions AG for data storage, security and cloud integration.
"In Europe, Spain and Portugal we are successfully executing Ricoh's business transformation plan, expanding our key IT solutions and services to become a leading player in digital transformation. Our goal in Spain and Portugal is for the IT business to represent 40% of Ricoh's turnover by the end of fiscal year 2020," explains Ramon Martin, CEO of Ricoh Spain and Portugal.
Alberto Mariani, Senior Vice President of Office Services, Ricoh Europe, adds: "These exciting acquisitions further strengthen our thriving IT Services business. They align to Ricoh's growth strategy and commitment to expand globally in IT Services by enhancing high end storage, data centre and Hybrid cloud capabilities."
Xavier Cortés, chairman of IPM and TotalStor, comments: "After almost 40 years at the helm of IPM and TotalStor offering critical IT infrastructure services, a very exciting new phase is now opening up that we are convinced will help boost the business. Being part of the Ricoh Group guarantees the sustainability that all our stakeholders – customers, suppliers and employees – need."
For more information on Ricoh's IT Services capabilities visit www.ricoh-europe.com/its.
| About Ricoh |
Ricoh is empowering digital workplaces using innovative technologies and services that enable individuals to work smarter from anywhere.
With cultivated knowledge and organizational capabilities nurtured over its 85-year history, Ricoh is a leading provider of digital services, information management, and print and imaging solutions designed to support digital transformation and optimize business performance.
Headquartered in Tokyo, Ricoh Group has major operations throughout the world and its products and services now reach customers in approximately 200 countries and regions. In the financial year ended March 2022, Ricoh Group had worldwide sales of 1,758 billion yen (approx. 14.5 billion USD).
For further information, please visit www.ricoh-europe.com
© 2023 RICOH COMPANY, LTD. All rights reserved. All referenced product names are the trademarks of their respective companies.
For further information, please contact: 
Ricoh Europe PLC
Charlotte Fernandez
E-mail: media@ricoh-europe.com
Homepage: www.ricoh-europe.com
Join us on Facebook: www.facebook.com/ricoheurope
Follow us on Twitter: www.twitter.com/ricoheurope
Follow us on LinkedIn: http://linkedin.com/company/ricoh-europe
Visit the Ricoh media centre at: www.ricoh-europe.com/press