Ricoh Europe supports Alzheimer's Research UK through golfing excellence at Ricoh Women's British Open
Charitable donations to follow birdies, eagles and hole-in-ones
Ricoh Europe, London, 01 August 2018
– For every birdie, eagle and hole-in-one hit by competitors at this year's Ricoh Women's British Open,
Ricoh Europe
will donate money to fund life changing research into Alzheimer's disease and other dementias.
The print and technology specialist will donate £10 per birdie, £20 for every eagle and £2,000 for a hole-in-one to Alzheimer's Research, the UK's leading dementia research charity.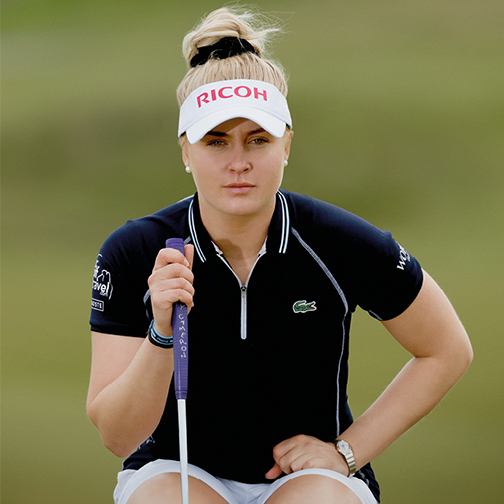 David Mills, CEO of Ricoh Europe, says: "I am extremely proud of our ongoing partnership with Alzheimer's Research UK,helping those affected by the disease and other dementias to stay connected. The donations generated through the sporting excellence we're sure to see at the Ricoh Women's British Open is another way we are helping our friends at Alzheimer's Research UK to combat one of the world's greatest medical challenges."
In the Spectator Village at the tournament, visitors can learn about Ricoh's Printed Memories Programme and how its technology is helping raise awareness and funds in aid of Alzheimer's Research.Using an on-site photo booth, golf fans can capture and upload a photo for a loved one onto the Printed Memories portal. They can then write a personal message before converting their photo into a postcard which is sent directly to the recipient wherever they are across Europe. A donation of £1 will be collected with all proceeds going to the charity.
Ricoh Brand Ambassador and British number one, Charley Hull, adds: "I am sure I speak on behalf of all the players in the field, when I say how incredibly excited and humbled we are to be able to help raise vital funds. Hopefully you will see many birdies and eagles scored throughout the tournament."
Visitors will also be able to live-print eco shopper bags on demand, using Ricoh's direct-to-garment printing technology, also available for a small donation to Alzheimer's Research UK.
Tim Parry, Director of Partnerships at Alzheimer's Research UK, says: "We're delighted to see our partnership with Ricoh going from strength to strength, and we can't thank them enough for this inventive fundraising initiative. Ricoh's support is not only boosting our mission to find the first life-changing treatment for dementia, but offers a fantastic example of the role companies can play in solving this challenge."
The Ricoh Women's British Open will be contested 2nd – 5th August at Royal Lytham & St Annes Golf Club in Lancashire, England.