Ricoh enjoys double Buyers Lab Award win
Company recognised for multi-function printer and scanning excellence
Ricoh Europe, 22 January 2019 – Ricoh Europe is once again celebrating the Keypoint Intelligence – Buyers Lab seal of approval with its 2019 Winter Pick Award success.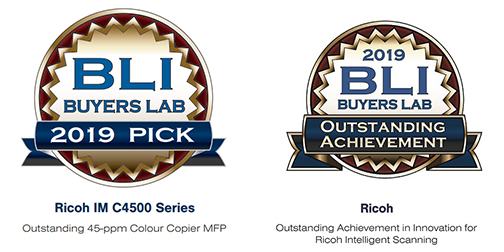 The new Ricoh IM C4500 A3 colour intelligent multi-function printer has been named Outstanding 45-ppm Colour Copier MFP, with Ricoh Intelligent Scanning technology announced as an Outstanding Achievement in Innovation.
The IM C4500 prints at a rate of 45 pages per minute offering scanning, copying, finishing, faxing and mobile printing support. The device is the first in a series to feature Ricoh's new Always Current Technology, ensuring the technical capabilities of its products evolve in parallel with changing customer needs.
David Sweetnam, Director of Research and Lab Services EMEA/Asia for Buyers Lab, says: "Ricoh's commitment to empowering digital workplaces and building the tools to make it a reality are two of the reasons they took home the 'gold' for our 2019 Winter Pick Awards for the Ricoh IM C4500 colour MFP and scanning innovation. Much of Ricoh's value-add to both direct customers and dealers is based on tailored, scalable solutions that grow with each business to meet its unique needs."
Buyers Lab, the world's leading independent evaluator of document imaging hardware and software, chose the winning Ricoh innovations based on an in-depth review of a comprehensive set of technical criteria.
Olivier Vriesendorp, Vice President Product Marketing, Ricoh Europe, adds: "We consider these awards further recognition of our leadership in bringing the best possible devices to the market. Providing customers with flexible and secure products and services forms the foundation of a digitally empowered workplace. We look forward to helping our customers evolve further throughout the digital age with leading technology that enables them to take advantage of the latest market developments."
For more information visit www.ricoh-europe.com.