Ricoh collaborates with Bianchi to drive creative innovation at FESPA 2018
Ricoh Europe, London, 22 March 2018 – The power and performance of print, from visually stunning banners and posters to personalised t-shirts and bags, will be showcased through an exciting partnership between Ricoh and Bianchi at FESPA 2018.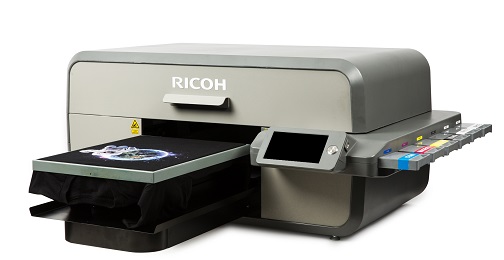 Ricoh will highlight how print and communications businesses can open new worlds of opportunity in the vibrant Sign and Display sector with real-life applications that also answer clients' industrial print production needs. Possibilities showcased will range from catalogues, banners and flags to wall graphics, T-shirts and bags.

"Technology and design excellence are core to the ethos of both Ricoh and Bianchi," states Graham Kennedy, Head of Commercial Inkjet Business, Commercial and Industrial Printing Group, Ricoh Europe. "That is why this partnership is perfect. Both companies are committed to leading their respective markets through innovation and high performance.

"At the show we are simulating a typical Bianchi retail outlet and calling it Bianchi Corner. It will enable visitors to see many of the applications and solutions that Ricoh systems make possible. Inspiring real-life applications will encourage them to consider what they can offer and investigate new markets they can address."   

Applications featured in Bianchi Corner will include: 

Flags, banners and wall graphics completed on the Ricoh Pro L4160 wide format latex printer.
Rigid display panels created by the Ricoh Pro™ T7210 UV flatbed printer.
Polo shirts, T-shirts, caps and bags printed on the Ri 100, Ri 3000 and Ri 6000 direct to garment systems.
Catalogues, brochures, posters and cards produced on the new Ricoh Pro™ C7200x digital sheet fed colour series. 
Bianchi Corner can be found on Ricoh's stand in Hall 3.1 A50, Messe Berlin, from May 15 to 18. After the show the area will be reconstructed at Ricoh's CEC in Telford, UK, where it will continue to inspire client creativity. 
|About Bianchi |
Founded by Edoardo Bianchi in 1885 - in Milan, Bianchi offers to the market a complete range of models for Road, MTB, City-Fitness, e-Bikes and accessories to meet the needs of all cyclists. All frames are projected and developed inside the Bianchi headquarter in Treviglio (Bergamo, Italy), same as all graphics and colors combinations. Bianchi means Italian Creativity since 1885.
www.bianchi.com