Ricoh announces launch of compact high speed inkjet platform
Ricoh Europe, London, 08 November 2017 – Print services providers can produce profitably a wide range of applications from transactional print such as bills, statements and policy documents to books, direct mail and pharmaceutical leaflets with the new Ricoh Pro™ V20000 series continuous feed inkjet platform.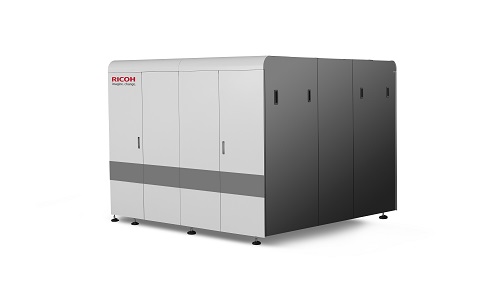 The compact, versatile and simple to use family of systems brings competitive mono and colour production to existing users of continuous feed printers as well as sheet fed users who are looking to consolidate the output of multiple devices to a single machine. With a footprint of just 4.3 square metres, it can fit in to almost any production environment.

Users with different volume requirements can benefit from the three versions being announced: the 75 metres per minute, 600 x 600 dpi mono Ricoh Pro V20000, the 150mpm, 600 x 600 dpi mono Ricoh Pro™ V20100 and the 75mpm, 600 x 600 dpi CMYK Ricoh Pro™ VC20000. 

An additional user benefit is that this family of inkjet printers will work with a wide variety of papers including the lightweight materials required in the pharmaceutical industry. In addition, they are optimised to combine with inline finishing solutions where the ability to change speed to match the capability of each device helps to maximise production and minimise paper waste.   Tim Taylor, Head of Continuous Feed Market, Commercial and Industrial Printing Group says: "The Pro V20000 platform is a great addition to our portfolio. It joins the Ricoh Pro™ VC40000, which was announced earlier this year, and Ricoh Pro™ VC60000 continuous feed inkjet printers, meaning we have a system that suits the production requirements of almost any operation." 

He continues: "The easy to run systems also offer an upgrade path for existing toner-based operations. The improved operational efficiency, increased running speeds and significantly lower running costs often mean one inkjet device can replace several ageing toner machines.

"We are also excited by the number of additional markets it can help our clients competitively service when used in combination with Ricoh software. For example, it enables intelligent and efficient book production when combined with our TotalFlow BatchBuilder software and, with a combination of FusionPro and Ricoh Process Director, we can provide a complete and secure pharmaceutical solution.

"As with Ricoh's complete family of inkjet and toner devices Pro V20000 users will benefit from our knowledgeable and responsive service and support network. It will help ensure clients develop all possible revenue streams to maximise their investment."

The Pro V20100 will be shown for the first time at Ricoh's The Art of The New event, November 21 to 23, Ricoh's Customer Experience Centre, Telford, UK.

All three models will be available from Q1 in 2018.

For more information please visit www.ricoh-europe.com.