Ricoh acquires DataVision to become one of Europe's largest AV & Workplace integrators
Customers to access broader range of collaboration, meeting room and workplace technologies
Acquisition reaffirms Ricoh as a Digital Services company
Ricoh Europe, London, 01 September, 2020 – Ricoh customers across Europe are set to benefit from an even greater range of meeting room, collaboration and workplace technology and services through the company's acquisition of DataVision.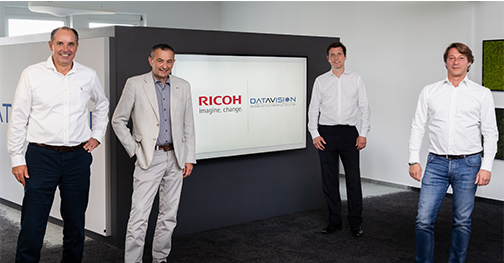 Founded in 1995 and headquartered in Dusseldorf, DataVision is a leading AV & Workplace integrator with over 100 employees located across 10 sales and service offices in Germany. Its main areas of focus are around Modern Meeting & Workplace Solutions including Unified Communications and Collaboration (UCC), Audio Visual (AV) and Workplace Management Solutions. It has over 1,300 customers including 15 of the DAX 30 companies in Germany, as well as a number of the large Government ministries. DataVision has a number of strategic partnerships with Collaboration, AV & Workplace Technology companies and was recently selected by Microsoft as one of their Global Partners of the Year in 2020 and their preferred partner for Microsoft Teams Rooms Premium in Germany.
The acquisition will enable Ricoh clients across Europe to gain access to DataVision's experience and expertise in UC, AV and Workplace Management Solutions. They can also access a broad portfolio of products, software and service offerings, as well as harness continuous innovation through strategic partners such as Microsoft.
DataVision clients will benefit from Ricoh's global footprint, financial strength and integrated Service Delivery infrastructure. They can access the wide range of Ricoh's Communication Services products and solutions. This extends to other areas of the Ricoh business including document management systems, IT Services and Business Process Services and Production Printing solutions.
DataVision will continue to operate under its existing name, DataVision Deutschland GmbH, as an individual entity.
Edward Hamilton, Vice President, Communication Services, Ricoh Europe, says: "The decision to acquire DataVision was based on a number of factors. This includes their market leading position, extensive competencies and experience, and the synergies we share with them in terms of customer bases, culture and strategy. This acquisition provides a strong platform for further growth across Europe and forms a key pillar in our transformation to become a Digital Services company. Most importantly, it serves to support our customers on their digital transformation journeys."
David Mills, CEO, Ricoh Europe, adds: "This is a significant development in the market and an important addition to our Communication Services business, both within Germany and at a European level. Crucially, it enables greater collaboration within smart and safe workplaces for our customers."
Jochen Roggenkämper, Managing Director, DataVision, concludes: "We are very excited about the journey ahead. The global footprint and infrastructure of Ricoh with their experience in delivering end-to-end Managed Services, paired with our extensive experience and expertise in AV, UCC and Workplace Management at DataVision, means that our customers across Germany and Europe are better positioned than ever to benefit from advanced and collaborative working environments."
For more information visit www.ricoh-europe.com.
| About DataVision |
DataVision Deutschland GmbH, based in Düsseldorf, was founded in 1995 and has been one of the leading integrators of AV, Unified Communications & Workplace technologies for 25 years serving a growing customer base in the Corporate, Public and Education Markets in Germany.
DataVision offers best in class technologies with integrated AV/IT solutions for individual conference rooms and modern meeting places as well as Unified Communications and Collaboration. With offices across Germany, DataVision has direct contacts available to customers offering individual advice and full-service support.