Pondres partners with Ricoh to boost production inkjet quality with a Ricoh Pro™ VC60000
Ricoh Europe, London, 19 May 2016 – Pondres, the Dutch full service print provider and expert in data driven marketing, has chosen to refocus its inkjet printing production with an investment in a Ricoh Pro VC60000 continuous feed production inkjet platform. 

An early adopter of inkjet in the Netherlands, Tilburg-based Pondres is looking to take the next step to address market developments and accelerate transformation. CEO Jeroen Beckers says, "The quality demands for graphics in marketing collateral continue to grow; and with the Ricoh Pro VC60000, we can address this demand whilst also introducing new products and services that will benefit our clients' businesses."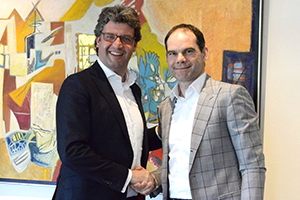 Pondres is an expert in strategic development and implementation of omnichannel dialogue marketing, including print, direct mail and e-fulfillment. The company operates with 160 employees and 50 freelancers. 

"We see that printed marketing communications continue to play an important role." Beckers explains, "So that's where our future opportunities lie. And we needed to update our production inkjet capabilities to accommodate the increased quality demands for these applications." 

Refocusing the business 
"In order to respond effectively to the further digitisation of communications, and at the same time enhance our strength in print, we turned our focus to two separate business areas. With our customer communications management (CCM) solutions, we have unlocked the data needed for personal and relevant customer communications through multiple channels from a single customer view that ensures consistency and encourages engagement. And in the print, mail and fulfillment area, we have included physical production of print as one of many output channel choices our clients have. Synergy between the two businesses is optimised. We now offer our clients full omnichannel marketing communications, including print." 

This new strategy led to the decision to re-evaluate its production inkjet platform, according to Beckers. "Inkjet technology has developed rapidly," he says. "This opened the door for us to take the necessary steps toward higher quality at lower cost.  During our talks with various parties, it soon became clear that Ricoh shares our vision for the future. In addition, Ricoh is open to close cooperation in business development in print, and in CCM. In this way we strengthen each other and expand both our services, making for an excellent partnership." 

The exceptional quality of the Pro VC60000 enables Pondres to replace traditionally printed mass marketing materials with personal and relevant marketing communications. Beckers adds, "The Pro VC60000 stands out, thanks to the combination of a high resolution of 1200x1200 dpi and variable droplet size. In addition, the press features Ricoh's proprietary fifth-generation printheads and inks. This vertical manufacturing approach gives users confidence that the company will continue to rapidly improve the technology into the future, staying ahead of market trends." 

Partnership brings mutual benefit
Benoit Chatelard, Vice President, Production Printing, Ricoh Europe, is pleased with the new partnership with Pondres. "Ricoh, with more than thirty years' experience in inkjet, has worked hard to bring the best possible price/performance to market with the Pro VC60000. The fact that such an innovative and forward thinking progressive company as Pondres has joined the fast expanding group of European Pro VC60000 users is validation of the quality and market relevance of this technology." 

Beckers adds, "Beyond the press, Ricoh delivers a vision and partnership that fits our strategy. We continue to invest in data-driven communications, and Ricoh is the best partner to help us move that forward." 

In addition to the Pro VC60000, Pondres has also invested in toner-based Ricoh Pro™ C9110 and Ricoh Pro™ 8120 sheetfed presses. "This further expands our flexibility, capacity and capabilities," says Beckers. Ricoh has also helped the business create an inspiration space to keep the spirit of innovation at the forefront, including three projectors and an interactive Ricoh D5500 whiteboard.