New Ricoh Pro™ C7200X Series supports business growth with enhanced creative capabilities
Ricoh Europe, London, 6 March 2018 – Greater business growth opportunities and a cost effective route to differentiation for production printing operations will be delivered by the new Ricoh Pro™ C7200X series of digital sheet fed colour presses.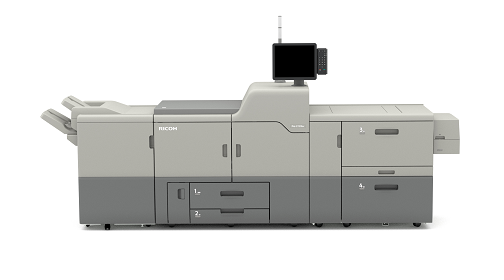 The five colour Pro C7200X (Graphic Arts Edition) series has been designed and engineered for graphic arts applications while the four colour ProTM C7200 series has been developed to help enterprise print rooms to reduce their operational costs.

Enhancements compared to the highly successful Pro C7100X platform include improved colour stability thanks to auto calibration with inline sensors, and improved registration with an auto adjustment function. In addition, its fifth station offers wider scope for value added print applications with the new ability to print white plus CMYK in a single pass, enhancing impact, for example on coloured media. The Pro C7200X series introduces invisible red toner which is ideal for a range of entry level security applications. The recently launched neon pink toner, as well as white, clear and neon yellow toners complete a wide range of fifth colour options.

Productivity is increased with models printing at up to either 95ppm or 85ppm plus auto duplex long sheet production up to 700mm, and simplex up to 1260mm. Image quality is exceptional, with 2,400 x 4,800 dpi. So is productivity across a wide range of media which can now be printed at rated speed up to 360gsm. The new models deliver streamlined production with inline finishing, too. Options include the GBC eWire Binder, BDT Banner Sheet LCT and a Plockmatic banner sheet stacker. A new, intuitive 17 inch operator panel will increase usability.

A range of Digital Front End options are available with Fiery from EFI, and GWNX and the TotalFlow Print Server R62A from Ricoh. This is a high performance DFE that offers excellent integration with various workflow solutions.

"The new Ricoh Pro C7200X series is an extraordinary package of capabilities," says Eef De Ridder, Director, Commercial Printing of the Commercial & Industrial Printing Group, Ricoh Europe. "The systems address today's market demands for greater complexity, faster turnaround times and varied run lengths. The enhancements improve quality, productivity and usability to ensure striking and engaging results can be achieved simply and smoothly. I am confident that progressive print businesses who make this investment in their creative capability will be rewarded by delighted, loyal clients." 

The Ricoh Pro C7200X series will be unveiled on 10 April, in Lisbon, Portugal and then at a series of events across Europe under the banner of the Art of the New 2018. All models will become available in March across EMEA.