Nearly half of UK adults can't name a single type of dementia
Stat revealed as charity campaign sheds light on diseases behind the condition
Ricoh Europe, London, 19 November 2019 - A new UK-wide poll commissioned by Alzheimer's Research UK has revealed that nearly half (46%) of UK adults are unable to name a single type of dementia. The survey, carried out by YouGov for the UK's leading dementia research charity, showed that while 43% of people were able to name Alzheimer's disease, the most common cause of dementia, many could not name any other forms of the condition. Under one in four (24%) could name vascular dementia – the second most common type of dementia – and just one in 20 (5%) could name dementia with Lewy bodies.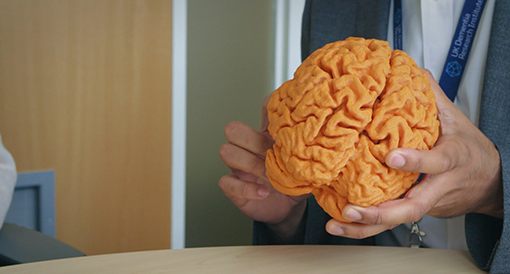 The survey comes as Alzheimer's Research UK and Ricoh team up to lift the lid on dementia with a powerful awareness campaign highlighting the many physical diseases that cause the condition. The campaign, Dementia Uncovered, includes a series of hard-hitting films that highlight the experiences of four people living with different types of dementia, as well as the scientists striving to bring about new treatments.
There are 850,000 people in the UK living with dementia and one in two of us know someone affected by the condition. Dementia is caused by a range of physical diseases that affect people in different ways, including Alzheimer's disease, vascular dementia, frontotemporal dementia, and dementia with Lewy bodies. These diseases bring with them a broad and devastating range of symptoms, including visual changes, language problems, hallucinations, behaviour changes and difficulties moving.
The poll showed that while 92% of the public associated memory loss with dementia, only around one in 10 (11%) UK adults thought dementia could cause symptoms like blind spots or double vision and just over a third (34%) recognised hallucinations as a symptom of dementia.
To reveal more about the day-to-day realities of different types of dementia, Alzheimer's Research UK and Ricoh worked with Connected Pictures and director Gemma Brady, known for her work on 24 Hours in A&E, to develop a suite of eight new films. These films explore the different diseases that cause dementia, the different ways in which these diseases affect people, and the research taking place to find answers.
The films mark a new chapter for the Dementia Uncovered campaign, which launched last year with a compelling film featuring acclaimed actor Simon Pegg. Using Ricoh's 3D printing technology, the original film helped show the physical nature of Alzheimer's disease, which shrinks the brain at four times the rate of healthy ageing.
One of the people featured in the campaign is Themiya Haththotuwa, who works at Ricoh and whose father Sena has dementia with Lewy bodies. The disease causes distressing symptoms including hallucinations, and problems with movement similar to those seen in Parkinson's. It's thought to affect around 100,000 people in the UK, yet it was one of the least-well recognised forms of dementia for the public.
Themiya said: "My father was always someone I could depend on when I was growing up, and to see the impact this disease is having on him has been hugely difficult. We now know that his symptoms were building for some time before he was first diagnosed, but when he first started to tell us about the hallucinations he was having, we didn't know that it was a sign of dementia. As his disease has got worse, so have his symptoms.
"I would love to see a treatment that could help people like my father, and I'm so proud to know that Ricoh is working to help Alzheimer's Research UK power groundbreaking dementia research. When the opportunity came up to be part of this campaign by telling our family's story, I knew I wanted to get involved."
Ian Wilson, Chief Executive of Alzheimer's Research UK, added: "The eye-opening results from this survey show that while many people recognise Alzheimer's disease as a cause of dementia, and 92% associate memory loss with the condition, far fewer can name other forms of dementia or the wide range of symptoms they bring. Dementia Uncovered shows the many impacts of dementia on everyday life, including trouble judging distances, finding words, hallucinations and falls. It is these symptoms that can have the most devastating impacts on people's lives and it's important that people realise the condition is far more than just memory loss.
"We are delighted to be working with Ricoh on this important campaign once again. We're incredibly grateful to the people who shared their experiences to help create such powerful films, which show the true impact of dementia. This latest chapter of Dementia Uncovered also underscores the commitment and dedication of the researchers whose work is so crucial. Dementia research is making progress and with support from the public and companies like Ricoh, we can make breakthroughs possible."
David Mills, CEO, Ricoh Europe, commented: "Since the launch of our partnership in 2017, we have worked with Alzheimer's Research UK on a number of initiatives to help raise awareness of dementia. We are proud of this new campaign and hope that it will challenge common misconceptions around dementia, and provide a powerful insight into the lives of people with the condition and scientists striving to find ways to prevent, treat and cure these debilitating diseases."
To explore the campaign films, visit alzres.uk/DementiaUncovered