Mark Hinder joins Ricoh as Commercial Print Business Development Manager
Ricoh Europe, London, 12 September 2019 – Ricoh Europe is continuing to strengthen its support for clients making the analogue to digital transformation with the appointment of Mark Hinder as Commercial Print Business Development Manager.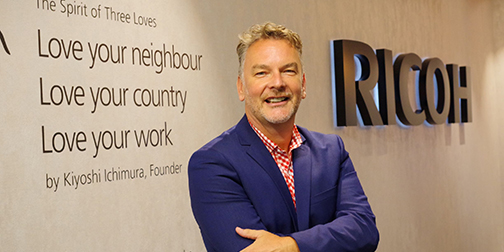 Mark brings nearly three decades of experience gathered from a number of leadership, business development, marketing and sales positions with Canon, Xerox, and most recently Konica Minolta Europe. He will strengthen Ricoh's commercial print and high speed inkjet business with a focus on helping Ricoh's clients build more agile and robust businesses.
Mark comments: "I am very happy to be part of the Ricoh team, an innovator in both technology and services in the high speed inkjet market. I am particularly excited to be managing the pre and post business development programmes as well as elevating awareness of the opportunities publishers, marketing agencies and brands can embrace with digital print."
Mark began his new role on September 2. He will be joined on November 1 by Juergen Freier, Director Commercial Print Sales of the Commercial Printing Group, as announced last week.
"Mark is another fantastic addition to our experienced and dynamic team," says Eef de Ridder, Vice President, Commercial Printing Group, Ricoh Europe. "Both he and Juergen bring with them a broad perspective and wealth of knowledge with respect to the challenges clients are facing as they evolve their operations to meet changing market demands."
He continues: "Mark's years of experience and industry insight will be a great asset as we help clients manage their analogue to digital journeys. His safe hands will provide the right support and guidance as they invest in their future prosperity."
For more information please visit www.ricoh-europe.com.