Magneet orders second Ricoh Pro™ C9110 press at Drupa 2016
Ricoh Europe, London, 08 June 2016 – Dutch commercial print service provider Magneet Communicatiecentrum has ordered a second Ricoh Pro™ C9110 heavy duty digital colour sheetfed press. The deal was signed on Ricoh's drupa 2016 stand in Hall 8a. 

The E2.5m turnover operation chose the press following its purchase of its first Pro C9110 printer 18 months ago. It also has a Ricoh Pro™ C907EX and a Ricoh Pro™ L4160 large format printer.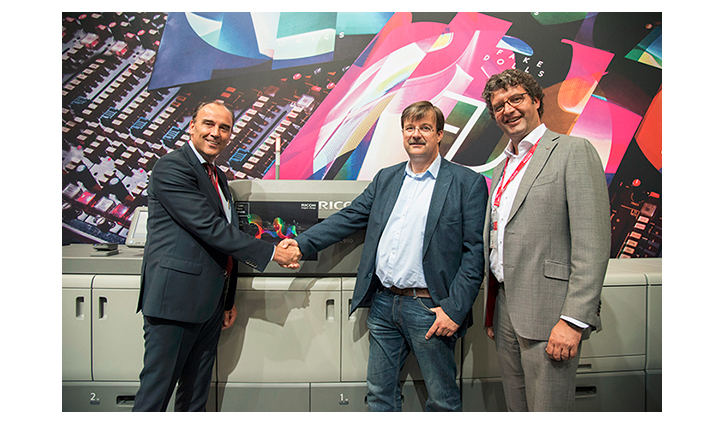 Managing Director Mathieu Levens says: "The first Pro C9110 has been a great production machine. It is fast, efficient and versatile. This made choosing the second easy."

It will also help the business hit a double digit growth target he states: "For the first half of the year we are 5% up on the previous year and we hope to reach 10% for the full 12 months."

Among its client base, the business counts marketing agencies and brands such as Famous Grouse. It also works in the education sector and produces a wide range of school materials: "We need to produce a lot of documentation but the run lengths can vary from one, two or three to thousands," he says. "We are growing and with its 130ppm we will be faster. It offers us more stability. Having two presses increases our capacity but also maximises uptime."

Also important was Magneet's relationship with Ricoh. "That was a good part of the decision. When you are investing in a press you are making a decision that will impact the business for at least the next four to five years. You want to have the confidence that you know it will go well."

Graham Moore, Director, Business Development, Ricoh Europe said: "This is the fourth Ricoh solution we have installed at Magneet and a testament to both the quality and performance of Ricoh's systems. We are delighted to support Magneet as it seeks to continue to grow the business."

The Ricoh Pro C9100 series runs at speeds up to 130ppm. It supports uncoated, textured and coated media up to 400gsm, as well as duplexed long sheet printing up to 700mm and even speciality media, such as super-gloss, magnetic, transparent and synthetic. 

An enhanced version of Ricoh's Vertical Cavity Surface Emitting Laser technology provides image quality up to 1200 x 4800 dpi while high colour consistency is assured by Ricoh's automatic image feedback technology which provides continuous colour density calibration.

Maximum uptime is delivered via a liquid cooling system for continuous printing, enhanced ORUs (Operator Replaceable Units) and toner bottles, and media changes on the fly.