Laser Zentrum Nord first to adopt Ricoh 3D printer designed to support high functional materials
Ricoh Europe, London, 15 June 2016 – One of Germany's leading Additive Manufacturing (AM) and research innovators has become the inaugural adopter of Ricoh's first AM printer – enabling it to meet growing customer demand and extend its range of manufacturing and engineering applications.

Laser Zentrum Nord (LZN) – a pioneer in AM printing – set out to establish a long-term strategic partnership that would help accelerate its AM research and manufacturing capabilities. LZN chose Ricoh and the RICOH AM S5500P – a high-end polymer sintering production machine – following extensive discussions and collaboration with the technology specialist. 

LZN opted for Ricoh in part due to sharing the company's unwavering commitment to hardware excellence and innovation. 

The first step of the agreement will see Ricoh install the machine and provide training and ongoing technical support. The second part will include cooperation in the development of new materials for SLS®i as well as new applications for high functional materials.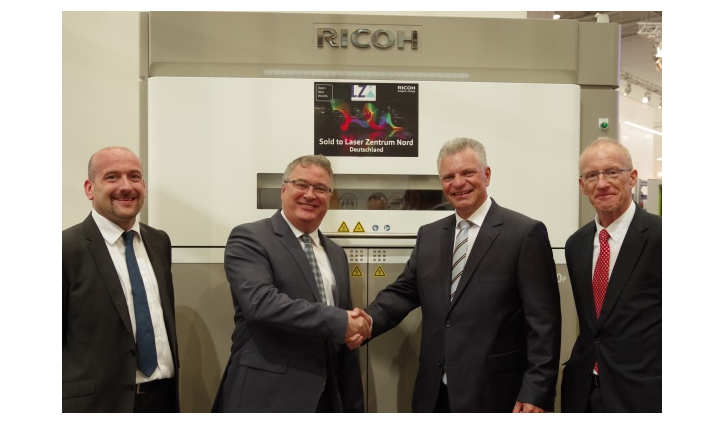 In addition to printing PA12 and PA11 materials, the RICOH AM S5500P pushes the boundaries of SLS® materials available to include PA6GB and PP (polypropylene; a polymer powder that is light, incredibly durable, and highly flexible).

Ricoh's heritage as a leading global manufacturing company offers LZN access to its vast expertise, end-to-end services and a product that offers:
Substantial build size of 550 x 550 x 500 mm
Advanced thermal control (the machine is able to keep temperature gradients small, which enables the printing of PP and PA6 materials)
Eight infrared lamps plus heating of the build chamber from all six sides (keeping the thermal gradients to a minimum)
Dual powder distribution 
High machine reliability (engineered for production)
Peter Williams, Executive Vice President, Ricoh Europe
, explained that Ricoh's presence in the market is pushing innovation to the fore. He commented: "Adding the RICOH AM S5500P to its existing infrastructure is a testament to LZN's commitment to manufacturing innovation. LZN commented on Ricoh's ability to push boundaries, and that is certainly something the RICOH AM S5500P does by offering multiple applications. Market response to the RICOH AM S5500P has been incredibly positive and LZN's adoption forms an important milestone in our respective AM journeys, as well as for the industry as a whole. Crucially, the availability of the RICOH AM S5500P and relevant end-to-end services means that European businesses now have a single point of contact for everything related to AM." 
Prof. Dr.-Ing. Claus Emmelmann, LZN
, added: "Ricoh's ability to truly listen and respond accordingly to specific needs, along with its extensive hardware expertise, made it the perfect partner for us. We look forward to leverage our extensive AM know-how and working with Ricoh to help evolve the industry."
As the service bureau of LZN, Bionic Production will also use the machine to produce aerospace and automotive component parts. Owner of the company, Ivan Cooper, stated that Ricoh's innovative technology and plans for the future, combined with the market expertise of Bionic Production, will enable adopters of AM to rapidly expand applications and markets.
Last month Ricoh announced availability of the RICOH AM S5500P in the UK, Germany, Italy, Spain, Belgium, Luxembourg and the Netherlands. Key to businesses realising the full benefits of the machine is the RICOH Rapid Fab Facility.
RICOH Rapid Fab facility
Ricoh recently established its first RICOH Rapid Fab facility on the continent. Located in Telford, UK, the facility has been created to enable customers to benefit from Ricoh's expertise in areas such as consultancy, training, design, manufacturing, post process finishing and measurement & inspection services. The facility also hosts demonstrations, giving customers an early look at the latest AM innovations from Ricoh. Customers can use RICOH Rapid Fab as a showroom to experience 3D printing products, and also take advantage of the 3D printer output service using their own data. Crucially, the capabilities of RICOH Rapid Fab relieves customers of often time-consuming, costly tasks, allowing them to focus on core business activities. The establishment of LZN as new RICOH Rapid Fab facility gives the opportunity for innovative customers in Germany and worldwide to convince themselves of the benefits from the RICOH AM S5500P.
For more information visit www.ricoh-europe.com/products/3D-printers.
i SLS® (Selective Laser Sintering) is a registered trademark of 3D Systems, Inc.