Impremta Pages orders Ricoh Pro™ C9110 press at drupa 2016
Ricoh Europe, London, 09 June 2016 – Spanish commercial print service provider Impremta  Pages has ordered a Ricoh Pro™ C9110 heavy duty digital colour sheetfed press. The press will run alongside its existing Ricoh Pro C751. The deal was signed on Ricoh's drupa 2016 stand in Hall 8a. 

Impremta Pages is a 75-year-old family business, owned by Josep Pages based in Girona. It provides a range of print services to a mixture of large and small clients in Spain and France. As well as the Ricoh Pro C751 it runs four offset presses.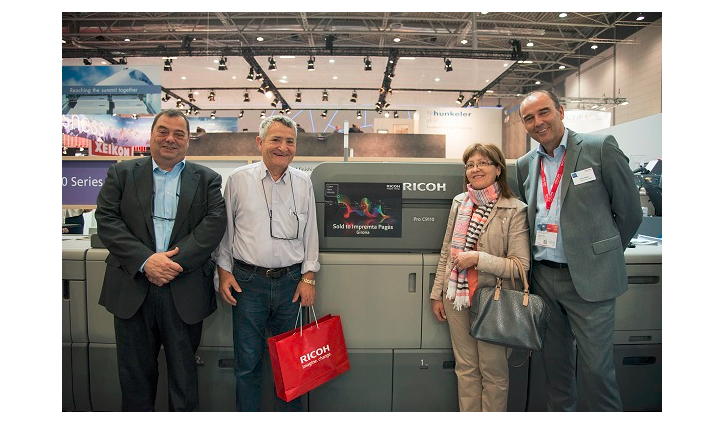 Pages says: "We are adding a Pro C9110 to expand our digital capability. We chose it because of its range of media options and print quality." 

He continues: "It will also help us meet increasing demand for short run, fast turnaround jobs, which the Pro C9110 is ideal for. It will make Impremta more responsive, flexible and efficient." 

Also an important factor was working with Ricoh. Pages adds: "We have a good relationship with Ricoh and have enjoyed a fantastic service." 

Graham Moore, Director, Business Development, Ricoh Europe said: "Impremta is an excellent example of how an international print service provider can grow its digital production from medium to high volume with Ricoh's expertise. By developing a strong partnership we have been able to help the business identify a clear growth path."

The Ricoh Pro C9100 series runs at speeds up to 130ppm. It supports uncoated, textured and coated media up to 400gsm, as well as duplexed long sheet printing up to 700mm and even speciality media, such as super-gloss, magnetic, transparent and synthetic. 

An enhanced version of Ricoh's Vertical Cavity Surface Emitting Laser technology provides image quality up to 1200 x 4800 dpi while high colour consistency is assured by Ricoh's automatic image feedback technology which provides continuous colour density calibration.

Maximum uptime is delivered via a liquid cooling system for continuous printing, enhanced ORUs (Operator Replaceable Units) and toner bottles, and media changes on the fly.