First plant-based ink from Ricoh enhances graphics and packaging print sustainability
Ricoh Europe, London, 15 February 2022 – Brand owners and printer manufacturers can further reduce their environmental impact with Ricoh's plant-based ink – the first of its kind for mainstream graphics and packaging print.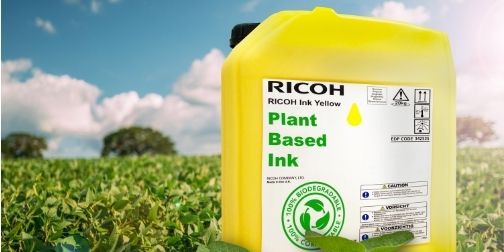 The ink is a derivative of the oil-based ink created for the décor printing sector as part of Ricoh's collaboration with German equipment manufacturer Olbrich. It has been developed to deliver excellent rub resistance and set-off performance for corrugated brown and white boards, as well as carton board.
The plant oil component creates a sustainable and environmentally-friendly ink that it is:
Quick drying, as no heat is required to fix or dry the ink. The oil penetrates porous substrates leaving the pigment near the surface. This reduces energy consumption and eliminates the need for the whole drying system.
Odour-free with improved food compatibility, as no monomers are used. 
Biodegradable and supports deinking.
Not water-based so no biocides are required to keep the ink usable. 
The print heads are easier to clean and less likely to clog as 'open time' is much longer. This helps enhance jetting reliability, performance, and printhead life. Low ink consumption is also enabled as the same optical density is achievable using 50% less ink. 
Graham Kennedy, Director Industrial Printing, Graphic Communications, Ricoh Europe, says: "Brand owners and printer manufacturers are increasingly focused on reducing their environmental impact and applying sustainable practices wherever possible. With our new plant-based ink they can seamlessly introduce positive changes that make a big difference without impacting their high quality printed results."
The ink is now available across EMEA.