EDP endorsement for the Ricoh Pro™ VC70000
Ricoh Europe, London, 16 May 2019 – Ricoh's groundbreaking Ricoh Pro™ VC70000 colour continuous feed inkjet platform, designed to enable commercial printers to migrate more work from their offset platforms and digital print businesses to produce more offset-like applications, has achieved prestigious industry recognition.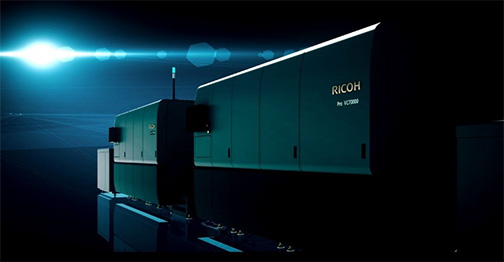 The Ricoh Pro VC70000 has won an EDP Award, at FESPA, Munich, in the Commercial Printing Systems Web Fed Printer category.
The Ricoh Pro VC70000 incorporates a new Ricoh designed and patented dryer and Ricoh's new extended gamut inks. The inks enable users to print directly onto a variety of offset papers without the need for any pre-treatment, creating the opportunity for progressive Print Service Providers to combine offset-like results with digital production flexibility for commercial print, direct mail and book applications.
The platform prints at speeds up to 150 metres per minute, producing nearly 12,000 duplex B2 sheets per hour. It incorporates Ricoh's latest state of the art piezo drop on demand print heads producing 1200x1200 dpi resolution on uncoated, offset coated, inkjet treated or inkjet coated papers.
Eef de Ridder, Vice President, Commercial Printing Group, Ricoh Europe, comments: "We believe the platform's patented drying technology, Ricoh-developed inks, high speed production, extensive media flexibility and outstanding quality create a winning combination. We are delighted that the EDP agrees and has chosen to recognise its unrivalled performance."
The EDP Awards honour the best developments in print production tools, software developments, substrates, inks, materials and finishing systems. The association focuses on ways to assist technology-appliers in their task to find the right solution for their applications.
| About Ricoh |
Ricoh is empowering digital workplaces using innovative technologies and services that enable individuals to work smarter from anywhere.
With cultivated knowledge and organizational capabilities nurtured over its 85-year history, Ricoh is a leading provider of digital services, information management, and print and imaging solutions designed to support digital transformation and optimize business performance.
Headquartered in Tokyo, Ricoh Group has major operations throughout the world and its products and services now reach customers in approximately 200 countries and regions. In the financial year ended March 2022, Ricoh Group had worldwide sales of 1,758 billion yen (approx. 14.5 billion USD).
For further information, please visit www.ricoh-europe.com
© 2023 RICOH COMPANY, LTD. All rights reserved. All referenced product names are the trademarks of their respective companies.
For further information, please contact: 
Ricoh Europe PLC
Charlotte Fernandez
E-mail: media@ricoh-europe.com
Homepage: www.ricoh-europe.com
Join us on Facebook: www.facebook.com/ricoheurope
Follow us on Twitter: www.twitter.com/ricoheurope
Follow us on LinkedIn: http://linkedin.com/company/ricoh-europe
Visit the Ricoh media centre at: www.ricoh-europe.com/press