EDC Expert (former Emerson DC) invests in Eastern Europe's first Ricoh Pro™ VC60000
EDC Expert (former Emerson DC) invests in Eastern Europe's first Ricoh Pro™ VC60000
Ricoh Europe, London, 06 June 2016 – EDC Expert is the first print service provider in Eastern Europe to invest in a Ricoh Pro™ VC60000 continuous feed production inkjet platform.

The Polish specialist in transactional mail, promotional mail, multichannel communication, fulfilment and logistics is the largest wholly independent letter shop in Central and Eastern Europe.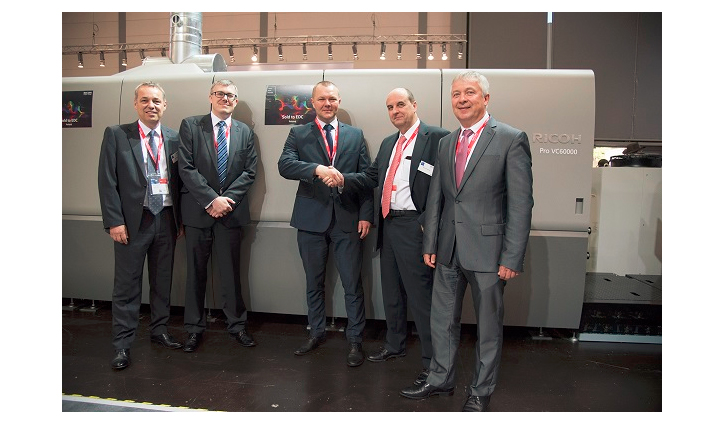 With an annual turnover of E15m, EDC Expert works with the retail sector, and with automotive, financial, and telecommunications companies as well as NGOs. In addition to Polish companies, it has clients in Germany, Austria, France, Great Britain, France and other European countries. EDC Expert has 200 employees.
Flexible production
The requirement to be flexible prompted the investment. Piotr Rogut, Vice-President EDC Expert Direct Communication, says, "Because we are working to address our clients' needs as effectively as possible, we decided to invest in a press that allows us to expand our offerings and reduce costs for low volume orders. Implementation of roll-fed digital inkjet is crucial to being able to do this. We can now print transactional or advertising materials on standard paper, without any pre-treatment or the need for more expensive inkjet-treated papers. This means the entire printing process is faster and less expensive."

Rogut felt the Pro VC60000 was the best print production system to support the company's growth strategy, saying, "After a thorough analysis of the solutions available on the market, we chose the Ricoh VC60000. This device best meets our expectations and needs. We liked the quality of the print output and the flexibility of the press. It allows us to reduce our lead times, especially for smaller volume jobs. We can deliver high quality final products faster and at a reduced cost. What more could you ask?"

The investment was made to support its broad array of services while retaining clients and looking to address new market sectors. 
European roll call
Benoit Chatelard, Vice President, Production Printing, Ricoh Europe, says, "EDC Expert is joining a growing roll call of leading European printers that are embracing the printing capabilities of the Pro VC60000 to reinforce their market position and open up new growth opportunities. These include progressive companies across  Europe."

The Pro VC60000 is capable of producing nearly 100,000 A4 images per hour. It reduces make ready time and speeds up turnaround, maximises operational efficiency and allows greater control of costs. It provides a function-rich total solution for customers new to digital colour and for those who want to consolidate and streamline their operations to grow their businesses. It will enable commercial production printers, in-house operations and service bureaux to move a growing volume of graphic art applications to high quality digital devices.

Rogut concludes, "The Ricoh VC60000 is a highly advanced press that provides unique quality. It will have a big impact on our business."
| About Ricoh |
Ricoh is empowering digital workplaces using innovative technologies and services that enable individuals to work smarter from anywhere.
With cultivated knowledge and organizational capabilities nurtured over its 85-year history, Ricoh is a leading provider of digital services, information management, and print and imaging solutions designed to support digital transformation and optimize business performance.
Headquartered in Tokyo, Ricoh Group has major operations throughout the world and its products and services now reach customers in approximately 200 countries and regions. In the financial year ended March 2022, Ricoh Group had worldwide sales of 1,758 billion yen (approx. 14.5 billion USD).
For further information, please visit www.ricoh-europe.com
© 2023 RICOH COMPANY, LTD. All rights reserved. All referenced product names are the trademarks of their respective companies.
For further information, please contact: 
Ricoh Europe PLC
Charlotte Fernandez
E-mail: media@ricoh-europe.com
Homepage: www.ricoh-europe.com
Join us on Facebook: www.facebook.com/ricoheurope
Follow us on Twitter: www.twitter.com/ricoheurope
Follow us on LinkedIn: http://linkedin.com/company/ricoh-europe
Visit the Ricoh media centre at: www.ricoh-europe.com/press