Ecograf invests in its quality service by ordering two Ricoh Pro™ C9110 presses at Drupa 2016
Ricoh Europe, London, 08 June 2016 – Ecograf is to enhance its production capability and quality service following its order of two Ricoh Pro™ C9110 heavy duty digital colour sheetfed presses. The deal was signed on Ricoh's drupa 2016 stand in Hall 8a.

The five-year-old Danish digital print operation has a turnover of €1.5m. It provides a broad range of general commercial print services, with the fashion industry a key sector for it.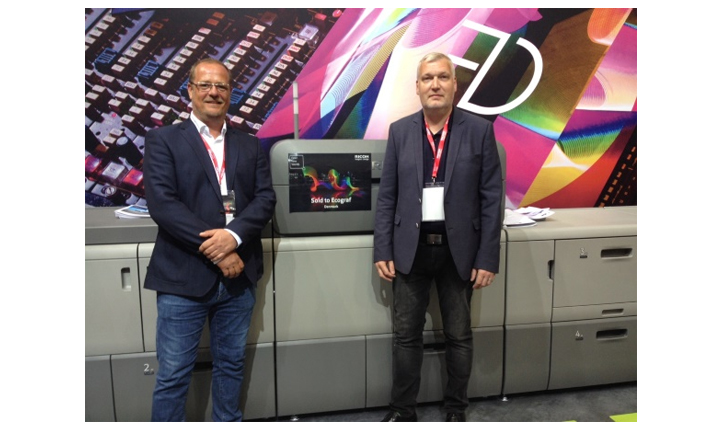 Lars Christensen, Ecograf Sales Director, says: "We invested in Ricoh because of the quality of the print. The device's productivity was very important too. We were also able to take some of the glossiness out of the colours and that was very important, particularly for the high-end fashion companies we work with.

"Also because of its productivity, it will have a high impact on the success of the business. It will make us more cost competitive and productive too. I expect it to help us increase our turnover by about 20%."

The sale was agreed through local Ricoh agent X&CO and Christensen adds: "We are very happy with the relationship we have with Ricoh and the service from X&CO."

Graham Moore, Director, Business Development, Ricoh Europe said: "We are delighted that Ecograf wants to invest in not one, but two, of our Pro C9110s. They have some exciting clients with specific demands and our presses are perfectly suited to meet their short run, high quality expectations."

The Ricoh Pro C9100 series runs at speeds up to 130ppm. It supports uncoated, textured and coated media up to 400gsm, as well as duplexed long sheet printing up to 700mm and even speciality media, such as super-gloss, magnetic, transparent and synthetic. 

An enhanced version of Ricoh's Vertical Cavity Surface Emitting Laser technology provides image quality up to 1200 x 4800 dpi while high colour consistency is assured by Ricoh's automatic image feedback technology which provides continuous colour density calibration.

Maximum uptime is delivered via a liquid cooling system for continuous printing, enhanced ORUs (Operator Replaceable Units) and toner bottles, and media changes on the fly.